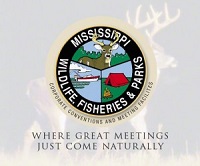 Mississippi's most popular hunting seasons are just getting started, fall fishing is starting to improve, and the majority of our state's public outdoor recreational areas will remain open despite the federal government shutdown.  Mississippi Department of Wildlife, Fisheries, and Parks (MDWFP) Wildlife Management Areas (WMAs), state lakes, and state parks are open to the public.  In addition, National Forests operated by the U.S. Forest Service will remain open for hunting access.
National Wildlife Refuges operated by the U.S. Fish and Wildlife Service and National Park Service lands will be closed to hunting, fishing and wildlife viewing.  In addition, U.S. Army Corp of Engineers (USCOE) maintained boat ramps behind gates will be closed.
All MDWFP offices, WMAs, state parks, and state lakes will remain open, and MDWFP Conservation Officers and biologists will continue working throughout the state.  To report a violation call 1-800-BE SMART (1-800-237-6278).
For more information about hunting and fishing in Mississippi, visit our website at www.mdwfp.com or call us at 601-432-2400. Follow us on Facebook at www.facebook.com/mdwfp or on Twitter at www.twitter.com/MDWFPonline.
Logo courtesy Mississippi Department of Wildlife, Fisheries, and Parks