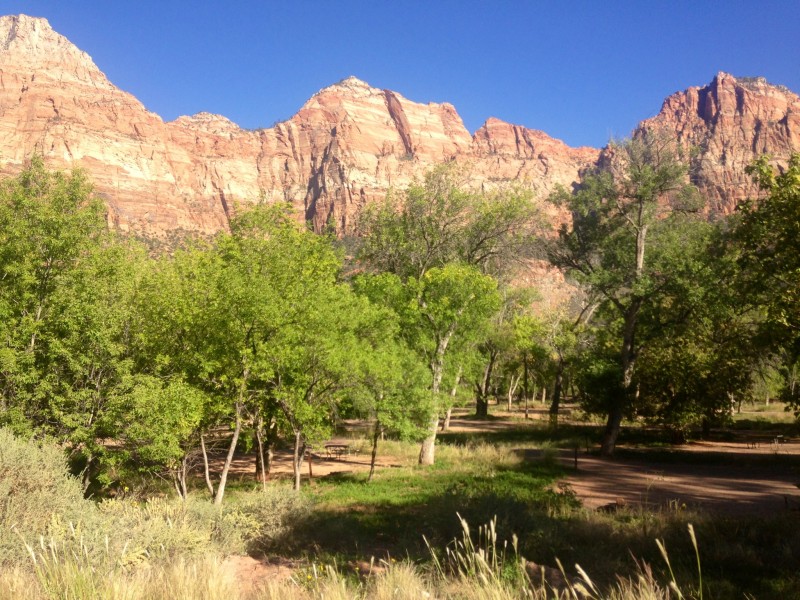 Zion National Park, along with the other 400 national park sites, has closed as a result of the federal government shutdown caused by the lapse in appropriations.  All visitor facilities including Zion's two Visitor Centers, Human History Museum, Lodge, campgrounds and roads, except for the Zion-Mt. Carmel Highway and Kolob Terrace Road- both thru ways, are closed.  In addition, all park programs and special events have been canceled, including educational programs for local school students. Park visitors in all overnight campgrounds and the Zion Lodge will be given until 6 p.m. on Thursday, October 3 to make travel arrangements and leave the park. The park will remain closed until the government reopens.
The Zion-Mt. Carmel Highway is also closed to oversize vehicles, 11'4" tall or taller, or 7'10" wide or wider. Alternate east/west routes are available via Highway 59 from Hurricane, Utah to Fredonia, Arizona and Highway 14 from Cedar City, Utah to Long Valley Junction and Highway 89.
Zion National Park hosts 10,000 visitors on average each day in October; nationally, more than 715,000 visitors a day frequent the National Park System. The park will lose an estimated $50,000 of entrance fees each day of the shutdown as well as camping fees. Nationwide the NPS stands to lose approximately $450,000 per day in lost revenue from fees collected at entry stations and fees paid for in-park activities such as cave tours, boat rides and camping. Gateway communities across the country see about $76 million per day in total sales from visitor spending that is lost during a government shutdown. Visitors spend about $138,000 a year in the communities around Zion National Park.
In Zion National Park, 200 employees are on furlough because of the shutdown and another 200 concessions employees are similarly affected.  19 employees remain on duty, enforcing the closures and providing emergency services, and another 10 will be on call for emergencies.
Nationwide the shutdown has also furloughed more than 20,000 National Park Service employees; approximately 3,000 employees remain on duty to ensure essential health, safety, and security functions at parks and facilities. About 12,000 park concessions employees are also affected.
Because it will not be maintained, the National Park Service website and social media sites will be down for the duration of the shutdown.
"This is a really difficult time for the park and its employees, visitors, and neighboring communities," states Zion National Park's Public Information Officer Aly Baltrus. "It is heartbreaking to turn away visitors who have been saving up for years to visit the park as a once in a lifetime visit. It is equally hard to talk to local business owners worried about the impacts, and to our furloughed employees who no longer know when or if their next paycheck will come."
For updates on the shutdown, please visit www.doi.gov/shutdown.
Image courtesy National Park Service