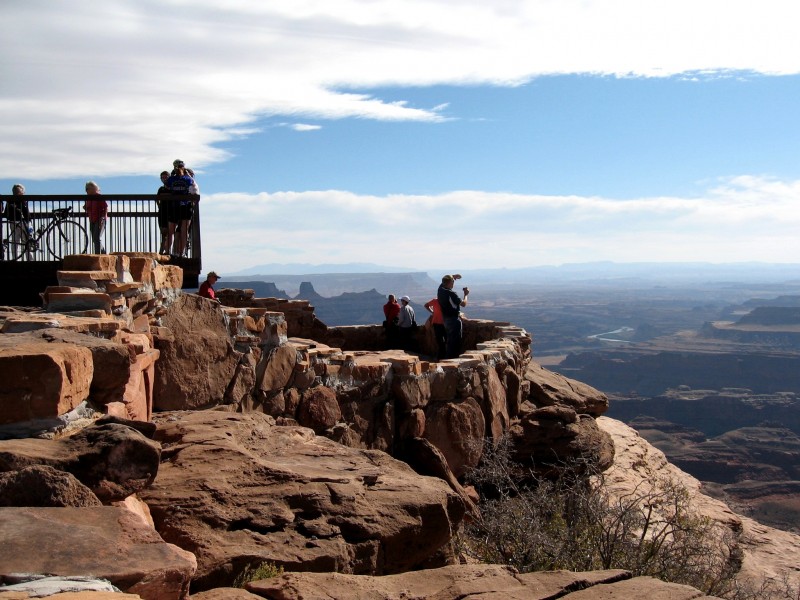 Utah State Parks will remain open during the possible federal government shutdown affecting federal operations and recreation areas. All state parks facilities, including campgrounds and visitor centers, will continue with regular park hours and services.
Fall is a beautiful time to visit Utah's state parks due to cooler temperatures and fewer crowds. Below are a few visitor favorites:
Snow Canyon State Park located near St. George, offers miles of hiking trails, technical rock climbing, horseback riding, year-round camping, interpretive programs and photographic opportunities. All of this is set against a stunning backdrop of towering red and white sandstone cliffs and peaks and valleys of jumbled black lava rock interspersed with serpentine sandy washes.
Antelope Island State Park west of Syracuse in the Great Salt Lake, is home to a roaming herd of bison, bighorn sheep, mule deer, pronghorn, coyote, and a wide variety of birds. Wildlife viewing opportunities abound on this island of grasslands, wetlands, and miles of shoreline. The island is located close to the Wasatch Front and offers visitors a unique and serene escape. Explore the vastness on foot, bike, or sea kayak. Interpretive programs are offered including star parties, island hikes and tours of the historic Fielding Garr Ranch.
Dead Horse Point State Park located approximately 30 miles outside Moab, towers 2,000 feet about the Colorado River and provides endless views of Canyonlands' sculptures towers and buttes. Take a bike ride on the Intrepid Trail System, hike the Colorado Overlook Trail, or enjoy an exhibit in the visitor center. Overnight camping is available, but reservations are recommended.
Starvation State Park off US40 in Duchesne provides access to brilliant blue waters and miles of sandy shoreline. Enjoy a day of fishing, boating or waterskiing and then spend the night in one of three new cabins or newly renovated campgrounds.
For more information on Utah's state park facilities, upcoming events or to make reservations, visit stateparks.utah.gov.
Image courtesy Utah Division of Wildlife Resources