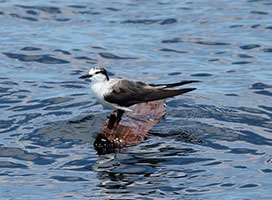 Leica's Traveling Trinovid is five months into its "Big Year" journey through North America on a quest to view as many birding species as possible in one year's time. So far, "Travis" the Traveling Trinovid has made it through 11 states locating a total of 519 species, and it still has seven months of travel left in its journey.
In April 2013, Leica Sport Optics bid farewell to a special Trinovid binocular, previously known only as serial #2002069, as it began its quest in Miami, Fla. Since then, the lucky binocular has been passed among birding notables from state to state.
Travis's most recent adventure took it to the East Coast for two pelagic birding trips, including one off New Jersey and Delaware with See Life Paulagics, and most recently off of Cape Cod, Mass., with the Cape Cod Bird Club. On both trips birders viewed numerous pelagic birds through Travis the Traveling Trinovid, including Shearwaters, Petrels, Terns and Jaegers.
Read young birder Miles Goldenberg's account from the Cape Cod pelagic trip here.
Read Nemesisbird.com founder Drew Weber's account from the Mid Atlantic pelagic trip here.
Earlier in September, Travis joined Camp Chiricahua participants in search of bird species and wildlife in the Chiricahua Mountains, the lower elevation of Sierra Vista, the San Pedro River area and forested slopes of Cave Creek Canyon. Sulphur-bellied Flycatchers, Plumbeous Vireo, Dusky-capped Flycatchers and Brindled Titmouse were among numerous species youth participants spotted during the trip.
To read about these and other recent adventures, visit the Traveling Trinovid Blog at www.travelingtrinovid.com.
"The Traveling Trinovid has viewed an amazing number and variety of bird species over the last five months," says Jeff Bouton, Leica Sport Optics birding/nature markets manager. "But this is no surprise, when you consider the enthusiastic observers we've recruited to take part in the Traveling Trinovid's quest. Notables include many book authors and journalists, birding magazine editors, bloggers, youth camp participants and professional guides.
"With fall migration, winter birding and the beginning of spring still yet to come, we're gunning for 600+ species on Travis's life list by the end of this big year. Even for some of the most seasoned birding veterans carrying Travis, that's an awesome number to hit in a single year. And to think, this is only Travis's first year as a bonafide birder (although you could say Travis was made for this)."
The Trinovid maintains Leica's high standard for exceptional engineering while providing superior value and performance as a Best in Class of premium entry-level binoculars.
Thanks to magnesium housing, the Trinovids are extremely lightweight, yet the rubber armoring makes them durable enough to handle rugged conditions and unpredictable weather. Choose the 8x magnification for relaxed observation or the 10x magnification for high detail performance. The 42 mm objective lens delivers optimal light for viewing, even in less than optimal conditions. Both model Trinovids provide great contrast/neutral color correction thanks to high quality premium optics.
Features include a stainless-steel center hinge and large eye cups with 4 stops. You won't find any plastic parts on the watertight Trinovid, and the Roof prism system features P40 phase correction coating and the HLS HighLux system for fascinating viewing impressions.
Check in with www.travelingtrinovid.com to keep up with where the Traveling Trinovid has been and where it's headed, and what species of birds have been spotted using this lucky pair of binoculars.
Images courtesy Leica Sport Optics