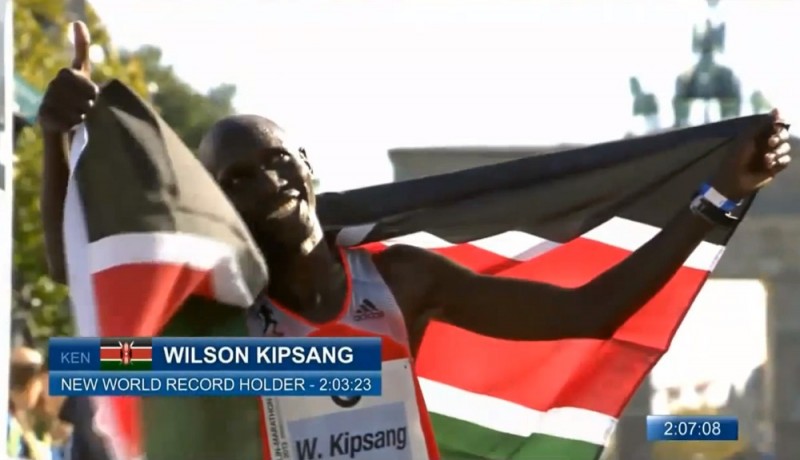 BMW's Berlin Marathon was the setting for a new world record once again this last Sunday, as Kenya's Wilson Kipsang shaved 15 seconds off the previous record holder's time. Crossing the finish line in two hours, three minutes and 23 seconds, Kipsang joins the ranks of eight other marathoners who have set records on Berlin's famously flat course. The previous record holder, Patrick Makau, had set the record in Berlin in 2011. Kipsang gained national attention by nearly breaking Makau's record a month later at Frankfurt's 2011 Marathon, where he finished in 2:03:42. Since then, Kipsang has dreamed of claiming the top honor for himself.
Though he claimed the win, his showing at the 2012 London marathon was not fast enough to break the record. Luck was not on his side at the 2012 London Olympics either, where heat and track conditions caused him to fall behind the pace, only earning him a bronze medal. Kipsang never lost faith though, and after the cancellation of New York City's Marathon, he turned his attention to Berlin.
The start of the race was promising, with Kipsang biding his time in the leading pack of 10 elite runners. It wasn't until about halfway that he, Eliud Kipchoge, and Geoffrey Kipsang broke away from the rest of the runners. Previous record holder, Makau, had planned to participate in the race as well but had to drop out at the last minute because of a knee injury. Instead, he watched from the sidelines as Wilson Kipsang pulled ahead of the others, passing the 40 kilometer mark three seconds faster than Makau did in 2011.
Unfortunately, Kipsang's dramatic finish was tainted by a spectator in a yellow shirt jumping out of the crowd and running alongside him. The man broke the tape just ahead of Kipsang in a stunt of ambush marketing for an escort service. He was arrested and charged with trespassing according to the Agence France-Presse.
Still, nothing could ruin the day for Kipsang who, smiling, wrapped himself in the Kenyan flag in celebration. Kipsang has no plans to stop here, as he explained to New York Times reporters, "Looking at my marathon progress and career so far, I still think I have the potential to run faster. Anything under 2:03:23 would do."
Image is a screenshot from video by universalsports on YouTube