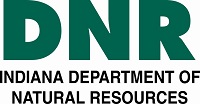 The entire Knobstone Trail in southern Indiana will open to hikers this month for the first time since the Henryville tornado of March 2, 2012.
The F4 tornado destroyed 4.5 miles of trail in Clark State Forest, including a popular section around the heavily damaged Round Knob. It also damaged Jackson Road trailhead. The DNR forestry and outdoor recreation divisions worked with volunteers from the Knobstone Trail Crew, Hoosier Hikers Council, Burris Laboratory School, Ball State University and Wilderness Outreach to restore the trail and trailhead.
The official opening of the affected trail areas and Jackson Road Trailhead is Oct. 11, according to Dan Ernst, assistant director of the DNR Division of Forestry. Deam Lake naturalist Rocky Brown will offer guided hikes of the damaged area of the trail beginning Oct. 18. Contact the Deam Lake office for details at (812) 246-5421.
"We expect to see great interest from hikers and visitors," Ernst said. "They will be able to hike through and see close-up the large tornado impact area."
The Knobstone Trail (KT) is Indiana's longest footpath—a rugged, 58-mile backcountry hiking trail passing through Clark and Jackson-Washington state forests. The initial 32-mile segment of the trail was opened in 1980.
The tornado left a 49-mile path of destruction, killing 11 people. It also damaged 7,500 acres of forestland, including 1,300 acres in Clark State Forest.
Salvage and recovery of nearly 4 million board feet of timber will be completed in November.
Tornado damage also closed more than 15 miles of popular horse trails in Clark State Forest. Restoration of horse trails is nearing completion, and a re-opening is expected by the end of the year.
Logo courtesy Indiana Department of Natural Resources