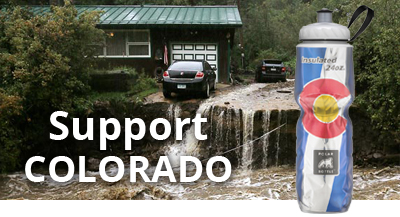 In light of the recent flooding that ravaged its home community of Boulder, Colorado, Polar Bottle® has launched a new promotion to generate donations for flood relief efforts.
For a limited time Polar Bottle customers who donate $5 or more to The Colorado Flood Relief Project will receive a Free Limited Edition Colorado Flag 24oz water bottle in their next order from the company's online store www.polarbottle.com. To take advantage of the offer, donors should email their donation receipt to [email protected] before placing their next order.
Polar Bottle — which has been based in Boulder for nearly 20 years — also encourages community flood relief group organizers to reach out to company representatives if they need bottle donations or volunteers.
Image courtesy Polar Bottle