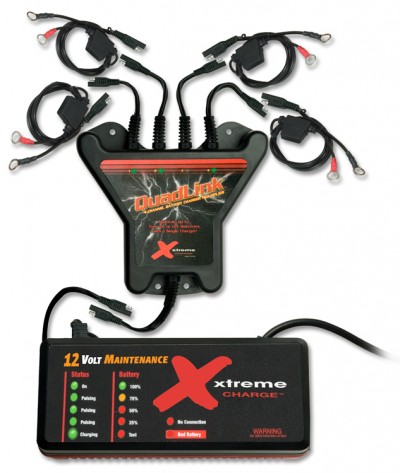 The changing of the leaves signals that winter is on the way and prompts us to start the winterization process for our recreational vehicles. PulseTech Products has introduced an easy and safe solution to keep as many as four 12-Volt lead-acid batteries maintained for those long winter months so our batteries are in pristine condition when we're ready to use them again in the spring.
While many owners of motorcycles, RVs, golf carts, lawn equipment, ATVs and boats typically consider fuel conditioners, antifreeze additives, oil additives and body finish products to preserve and maintain stored vehicles, batteries typically don't get the same amount of attention, resulting in dead or poor performing equipment at thaw-out time in the spring.
"Ours is an easy-to-use technology that safely maintains as many as four lead-acid 12V batteries no matter how long the batteries are connected," said Zena Johnson, marketing manager for the Dallas area company. "The 4-Station QuadLink Kit improves battery condition with our patented Pulse Technology that literally cleans the battery plates of sulfation build up. This allows the battery to accept, store and release maximum power all the time extending battery life up to 5 times."
While some trickle chargers, if left unattended, might result in overcharging causing the battery to literally boil the electrolyte and possible explode, PulseTech's unique smart maintenance chargers take the human element out of the function allowing batteries to remain hooked up indefinitely without the worry of overheating or overcharging.
Johnson said PulseTech's new-to-market 4-Station QuadLink Kit is a plug-and-play system  that requires little or no supervision and works with ANY 12V battery, regardless of CCA rating, including AGM, gel-cell, VRLA inducing or deep cycle for marine, standard automobile and truck and even small motorcycle and golf cart and riding mower batteries.
The maintenance charger kit (XC-QL4-K1), MSRP $199.00, includes everything needed to maintain four 12-Volt lead-acid batteries— both an Xtreme Charge® Battery Charger and Desulfator (XC100-P) and a QuadLink (XC-QL4), a four-station multiplier that distributes the charger's maintenance properties into 10 minute sequencing segments.
"This cycle rotation will continue indefinitely without overcharging—maintaining the charge of all four batteries automatically," Johnson added. "It's like giving your batteries vitamins."
For more information or to purchase the 4-Station QuadLink™ Maintenance Charger Kit (XC-QL4-K1), go to http://www.pulsetech.net/4-StationQuadLinkKit  or call 800-580-7554.
Image courtesy PulseTech Products