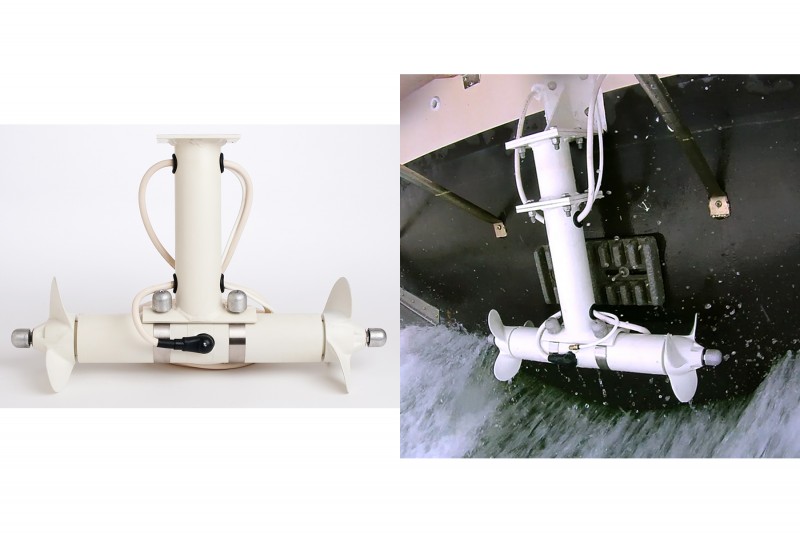 Even the most experienced boaters can encounter difficulty when maneuvering in close quarters or backing into a dock. Sideshift Stern Thrusters are ideal for boats from 20 to 50′, whether cruiser, sports boat, sailboat, houseboat, pontoon boat or catamaran. With effortless joystick control, they put any captain in confident command of his craft.
Sideshift stern thrusters provide all the advantages of improved navigation ease at a fraction of the cost of through-hull methods. With no hull penetration required and no holes needed below the water line, a Sideshift thruster poses no danger of leakage. It can even be installed while the boat is in the water.
Because versatile Sideshift stern thrusters mount externally to the rearmost location of a boat, they always deliver a pivot point advantage, permitting maximum turning power. Boaters will find previously challenging maneuvers simple, rather than stress-filled.
The unit's heavy-duty 12V or 24V motor is water-cooled, giving it a longer run time. It provides smooth, quiet operation so that boaters hear only the sound of water moving. Proven for saltwater use, the stern thruster is anode-protected for corrosion resistance and with an anti-fouling finish over epoxy primer.
With direct exposure to open water, the 3,000-rpm, 8″ aluminum Sideshift propellers provide the stern thruster with a remarkable degree of responsiveness. It answers joystick commands immediately, pulling the boat in any desired direction. When the boat is planing, the unit rises from the water so it creates no additional drag.
Stern thruster kits come complete with everything needed for installation and operation right out of the box, including thruster, controller, joystick, wiring, hardware, and even SikaFlex adhesive. Unlike through-hull installations, Sideshift thrusters can usually be installed in under a day, and are DIY-friendly. They're easily removable, should an owner wish to re-install one on a new boat.
Sideshift stern thrusters mount to any flat surface. They fit easily on the underside of a swim platform or the decking of a houseboat or pontoon boat. With Sideshift's optional stern extension mount kit, they can be placed on elevated horizontal surfaces as well. The optional stern mounting bracket and extension mount kits also accommodate a vertical mount, such as to a transom.
Boaters can view the product in action in videos posted at www.sideshift.com. They can also see a video demo outlining the ease of a Sideshift installation.
The ST340 model, intended for boats from 20 to 40′, retails for $4,195. The ST350 model, for craft between 40 and 50′, retails for $4,595. Both units measure 24″ W x 16.75″ L. For elevated mounting alternatives, Stern Extension Mount Kits are available in 5″, 10″ or 15″ sizes for $195 each. The Stern Mounting Bracket Kit costs $195.
Image courtesy Sideshift Inc.