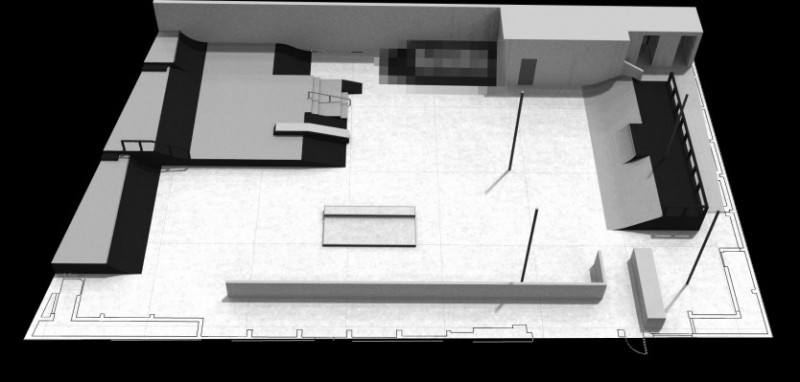 All Together Skatepark (ATS), in alliance with evo, Seattle's leading retailer of action sports gear, has announced plans to open Seattle's only indoor skatepark.
Fundraising: Donate Here
All Together Skatepark needs your help raising money for the project. ATS has started a fundraising campaign on Indiegogo, the largest global crowdfunding platform, to raise a minimum of $35,000 to open the skatepark. While the campaign will fund the park to be built at the $35k milestone, the "stretch" goal is to hit $100k, ensuring that the park will be around for many years to come.
By donating you become an ATS Founding Member. Get your limited edition Founding Member product and help play a role in getting Seattle's only indoor skatepark built! The more you donate, the more you get. Donate Here>
The Project:
Skateboarders need an indoor park to call home in Seattle because, let's be honest, it rains a lot here.  All Together Skatepark is working with Grindline, one of the world's premier skatepark builders, to design and build the skatepark that creates a fun, friendly and positive skateboarding experience for all ages with a focus on building strong connections with youth.
Together with the community, ATS will build the only indoor skatepark in Seattle. The perfect balance lies at the intersection of building community, creating a positive place for skateboarders of all ages, and driving sales for the companies that get behind the park both near and long term.
ATS plans to work with at-risk youth organizations to provide a safe and positive place to gather. "Building a facility where you can come to, you can skate, you can be safe, be with friends, build relationships and all those things…they are just so powerful." – Ashley Miller, Director of the Service Board on the importance of skateparks, youth and the community.
All Together Skatepark will be located at 3500 Stone Way in Seattle, in in the former Inner Space location. Inner Space was once a popular and beloved gathering place for the Seattle skateboard scene before shutting its doors in February of 2012. Many have been hoping and speculating about the opening of this space for Seattle skateboarders, and the time has finally come!
The Goals:
Fundamentally the goal of this Indiegogo campaign is to open a positive and engaging indoor skatepark that will speak to the spectrum of those in the Seattle skateboard community and beyond. ATS plans to open after a successful fundraising campaign in October of this year, just in time for the rainy season.
By helping launch ATS, you have an opportunity to create a movement, setting a new bar in the industry and for our skate community.
Image courtesy evo