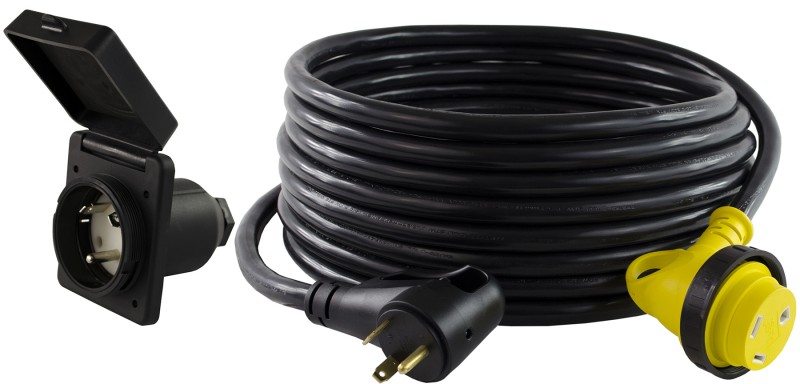 When it comes to choosing the ideal power cord and inlet, RV owners put qualities such as simplicity and reliability at the top of the list. Conntek's recently introduced straight blade inlet system meets and exceeds expectations with uncomplicated RV power hookup designed with comfort and security in mind.
This new inlet system consists of a straight blade cord and straight blade inlet. The straight blade cord features a weatherproof locking system and LED power indicator. The O-ring plug offers a comfortable grip, particularly for those with arthritis or strength challenges. The cord's new design also helps reduce problems with electric arcing.
An Ergo Grip handle fitted to the cord's male end mitigates hand fatigue and simplifies grasping and unplugging. The 90º bend at the handle prevents wrist strain, and also helps protect the cable itself from damage.
The second system component, the straight blade inlet, comes in go-with-everything white or sleek black. Easy to install, it accommodates TT-30 configuration, the same as standard hookups.
Conntek's 30A RV Straight Blade Power Cord in 25′ length retails for $69.99; 30′ length for $79.99. The 30 amp RV Straight Blade Inlet retails for $59.99. A 30A Straight Blade Conversion Kit is also available.
Contact Conntek, 2122 E Birchwood Ave., Milwaukee, WI  53110. 414-482-0800; Fax: 414-482-0220; www.conntek.com.
Image courtesy Conntek