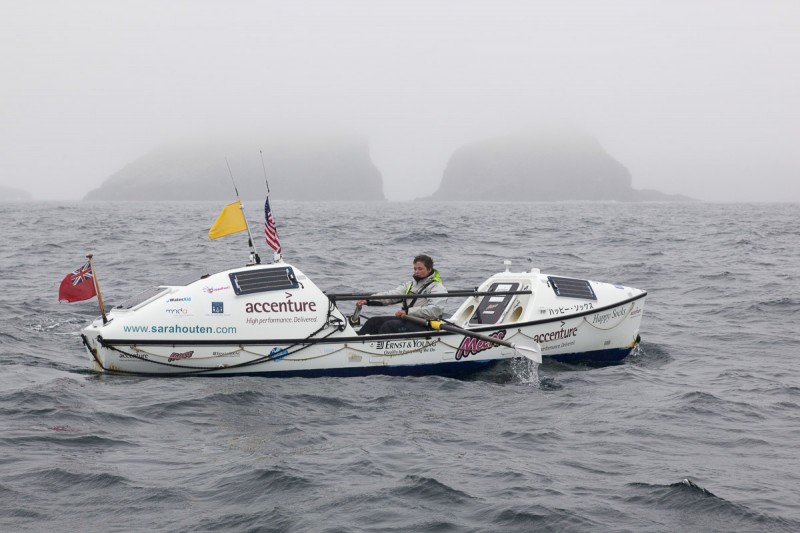 After 150 days at sea, 28-year-old Sarah Outen made history Monday when she pulled into Adak, Alaska's small boat harbor at 11 a.m. The completion of her journey from Choshi, Japan, an incredible 3,750 miles away, makes Outen the first woman to ever successfully complete the mid-Pacific solo row.
"I have had some of the most intense and memorable months of my life out on the Pacific—it has been brilliant and brutal at the same time. And it has been a privilege. But I have pushed myself to my absolute limits both physically and mentally to make land here in Alaska, and body and mind are now exhausted," Sarah explained as she celebrated with champagne and fruit in Adak that afternoon.
In her attempt, the British explorer battled huge waves, high winds, and freezing temperatures, relying on no one but herself and her boat, Happy Socks. No support vessel was around to aid her when she capsized no less than five times. She also had to revise her original route from Japan to Canada because of the punishing weather. Her journey to Alaska also almost ended in tragedy when, in the last few days of her trip, freezing temperatures and increasing darkness, coupled with radar failure, nearly caused her to collide with a cargo ship. Instead, Outen safely completed another phase of her larger goal to cross the globe by self-powered means (rowing, kayaking, and cycling), a task she is calling "London2London: Via the World."
Outen began her expedition in 2011, when she kayaked down the River Thames and across the English Channel. From there, she took her bicycle, Hercules, 10,000 miles across Europe, Russia and China via the Gobi desert, reaching the island of Saklin, Japan, with the combined help of her kayak, Nelson.
Outen attempted her first cross of the Pacific in April of 2012. Unfortunately, after traveling only 25 days, she was forced to return to land when she encountered Tropical Storm Mawar and her boat was damaged beyond repair. So, when she took to the waters this past April, she knew it wasn't going to be an easy trip.
But her success means that in the spring of 2014, she will again don her bike, and cycle across Canada and North America after a short kayak trip from Adak into the Alaskan mainland. The final leg of the "London2London" will require Outen to rely on her boat, Happy Socks, to once again help her to row across the Atlantic and home safely to the UK.
Her blog recounts the entire trip and is the main outlet for her story. It is also where Outen hopes to get the public involved through charitable donations to CoppaFeel!, the Jubilee Sailing Trust, the motor neuron charity MND Association, and Wateraid. To get involved or to learn more, visit her blog.
Image courtesy of James Sebright/Sarar Outen