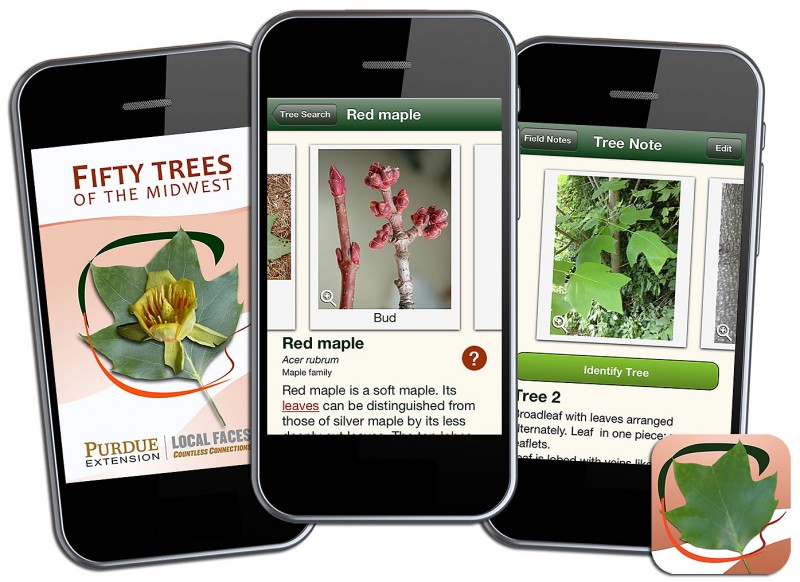 Students walking through woods in a classroom project no longer have to leaf through pages in a book to figure out what type of tree they're looking at. They now can have the resource of a Purdue Extension mobile app at their fingertips to easily identify the most common trees of the Midwest.
The "Fifty Trees of the Midwest" app not only is ideal for students who need to identify trees for schoolwork and other projects; it also will be handy for science teachers, Master Gardeners, foresters, operators of nurseries and others.
The mobile-device version of the publication of the same name is backed by the expertise of Purdue Extension forestry specialists.
"This app is a good companion for tree enthusiasts and professionals, providing information which has been reviewed by Purdue Extension experts," said Lindsey Purcell, a Purdue Extension urban forestry specialist who was an adviser in the selection of information available in the app. "And it's easy to use, designed for both young people and adults, with search capabilities that help users find information they need quickly."
More than 400 high-quality color photos show the leaf, bud, twig, flower, fruit, bark and form of more than 50 trees and include pop-up definitions. Users can enlarge the photos for a closer look.
Among the app's features is the ability for users to identify a tree by taking their own photos of it and then compare them side-by-side to photos in the app. They then can answer a series of questions to narrow the possibilities of the type of tree until they identify it.
The app offers five easy-to-navigate sections so that users can find information they need quickly:
Learn: Study the characteristics of broadleaf and evergreen trees and learn about different families and why some trees grow together.
Identify: Compare photos of tree characteristics and answer a series of questions to identify trees in your yard or in the woods.
Field Notes: Record information and map the trees as you go.
Glossary: Find definitions for common vocabulary at your fingertips.
Tree Search: Search by common, scientific and family names as well as keywords.
The app, for iPhone and iPad, costs $3.99 and is available at Purdue Extension's The Education Store at www.extension.purdue.edu/50trees.
To see all apps offered by Purdue Extension, go to www.extension.purdue.edu/apps.
Logo courtesy Sharon Katz/ Purdue University - Agricultural Communication