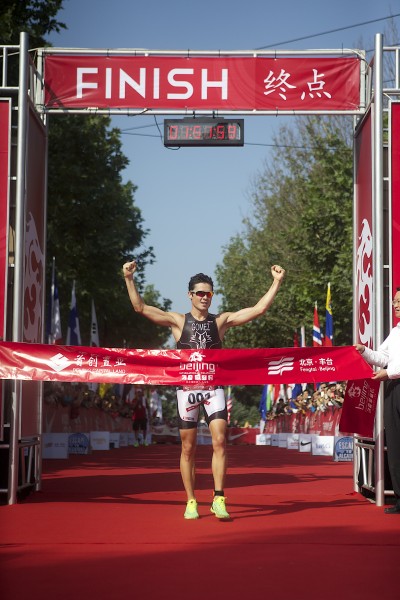 More than 550 professional and amateur athletes from around the world took the plunge into Fengtai's Qing Long Lake to compete in the 2013 Beijing International Triathlon on Saturday, September 20, under clear blue skies. Continuing his winning streak this season, 2012 Olympic Silver Medalist Javier Gomez from Spain won the race, and 2012 Olympic Silver Medalist Lisa Norden from Sweden took first place among the women.
Featuring a 1.5 km swim in Qing Long Lake; a 40 km bike race through the villages and up Qian Ling Mountain, the highest peak in Southwest Beijing; and a final 10 km run along stone paths, trails, steps and bridges, this Olympic distance triathlon truly showcased the beauty, tradition and hospitality of China. Racers from 17 to 69-years old represented 33 countries that participated in the triathlon.
A prestigious field of the world's top professional triathletes, Olympians and IRONMAN champions including Olympian Javier Gomez (ESP); Olympian Matt "Boom Boom" Reed (USA); three-time IRONMAN 70.3 UK Champion Fraser Cartmell (GBR); Olympian Greg Bennett (AUS); Olympian Mario Mola (ESP); Brian Fleischmann (USA); Graham O'Grady (NZL), Olympian Sarah Groff (USA); Olympian Lisa Norden (SWE); Olympian Laura Bennett (USA); Olympian Ricarda Lisk (GER), seven-time IRONMAN New Zealand champion Joanna Lawn (NZL); Jenna Parker (USA); Carolina Routier Canigueral (ESP); and Zhang Yi (CHN) all competed for $100,000 in prize money.
"I felt good and knew I was fit after winning the London Triathlon, but the Beijing International Triathlon is a totally different race, race course and field of competitors," said 2013 Beijing International Triathlon Winner Javier Gomez. "I came out of the swim first, and then Greg Bennett caught me at about 10 kilometers in on the bike. He is an amazing triathlete and I stayed close to him, knowing I would be strong in the run. I was excited for the run, it was a technical tough run with lots of stairs and ups and downs, so that is when I was able to pull ahead and build my lead. It was a really great race and I look forward to coming back to Beijing next year."
Top Finishers:
First Place: Javier Gomez, ESP, 1:51:59
Lisa Norden, SWE, 2:05:12
Second Place: Greg Bennett, AUS, 1:53:37
Sarah Groff, USA, 2:07:03
Third Place: Brian Fleishmann, USA, 1:55:32
Jenna Parker, USA, 2:07:20
"I came out of the swim in fifth place, so I knew I had to make up for it on the bike," said 2013 Beijing International Triathlon Female First Place Winner Lisa Norden. "I found my rhythm when I closed the gap with Laura Bennett and then at 12 kilometers I passed Sarah Groff and Carolina Routier. I then treated the last 30 kilometers like a time trial knowing I would have a hard time on the run because of a recent foot injury. To finish the season with this win is just fantastic for me, I love Asia, the culture the food the people, and this was a great race."
The 2013 Beijing International Triathlon is presented by the Fengtai Sports Bureau of Beijing and produced by IMG Worldwide. For more information visit www.beijinginternationaltriathlon.com.
Image courtesy Spin Communications