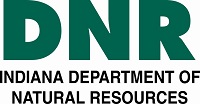 The DNR Division of Nature Preserves will offer free guided hikes this October at 10 state dedicated nature preserves as part of its Fall Field Days.
The first hike is Oct. 5 at 10 a.m. at Portland Arch Nature Preserve in Fountain County. DNR ecologist Tom Swinford will lead hikers through an oak woodland restoration site. Registration is required by Sept. 28.
On Oct. 19, guided hikes will be offered at 10 a.m. local time at the following nature preserves: Bell-Croft Woods in Jay County; Brock-Sampson in Floyd County; Calvert-Porter Woods in Montgomery County; Clark & Pine, and Liverpool, in Lake County; Leavenworth Barrens in Crawford County; Springfield Fen in LaPorte County; and Sweedy Hollow in Monroe County.
Registration for Oct. 19 hikes ends Oct. 12.
For more information and to register online visit NaturePreserves.dnr.IN.gov.
Logo courtesy Indiana Department of Natural Resources