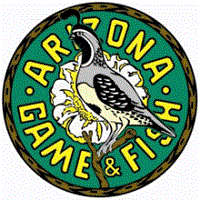 Alcohol is the leading contributing factor in fatal boating accidents, according to the U.S. Coast Guard.
Luke Apfel, wildlife manager for the Arizona Game and Fish Department's Region 3 office in Kingman, is well aware of this statistic and has been active in many of the regional Operating Under the Influence checkpoints.
For his efforts in removing impaired operators from the waterways, Apfel was recently awarded the MADD OUI Officer of the Year award.
"It's an honor," said Apfel. "There's a lot of satisfaction in getting impaired operators off the water. I consider every such arrest as a life saved. These same people operating under the influence on the water are often operating a vehicle when they come off the water as well."
Apfel has been in the Region 3 Bullhead City district since January 2012. Since that time he has been one of the department's top OUI enforcement officers. In 2012 alone, Apfel arrested nine subjects for OUI and currently has eight in 2013.
"Luke is one of the most proficient OUI investigators in the Kingman regional area," said Velma Holt-Buhr, west sector supervisor for Region 3. "In addition, with his knowledge and expertise he frequently assists other officers with their OUI investigations."
During the 2013 boating season Apfel participated in five OUI checkpoints along the Colorado River and has helped secure command centers at the checkpoint locations.
"There are some people who consider boating under the influence as acceptable," Apfel said. "It is not. People die on Arizona's waterways because people made a choice to drink. Before ever taking to the water people need to designate a sober operator. It's really that simple and helps keep the congested waterways safer for everyone."
Logo courtesy Arizona Game and Fish Department