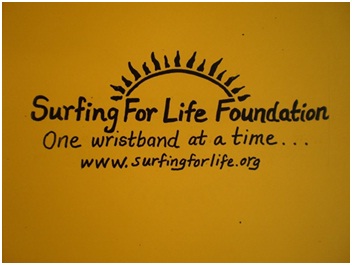 Surfing for Life Foundation is teaming up with Surfing for Hope and French Hospital Medical Center this weekend September 20-21, for the second annual surfing extravaganza to benefit the Hearst Cancer Resource Center.
The central coast surfing community will be coming together to help raise funds for families affected by cancer.  The annual event is the brainchild of local surfing legend and cancer survivor Bob Voglin and local doctors Thomas Spillane and Karen Allen.  These three have brought the surfing community and local physicians together to support the Hearst Cancer Resource Center at French Hospital. "I'm stoked to be a part of this year's fundraising event," states Tom Brown, founder of the Surfing for Life Foundation.  "I am deeply moved to see such enthusiasm from the local surfing community as they join together for this great cause."
The fundraising event begins Friday afternoon at 4pm on Avila Beach with a memorial paddle-out.  It will be followed by a benefit dinner and auction at Avila Beach Golf Resort.  Thelive auction and raffle will include many surf-related items as well as a surfing safari getaway to Mexico.  Local surf shops Esteem, Wavelengths, Shell Beach Surf Shop, Central Coast Surf Shop and Moon doggies have all generously donated items.
Three custom surfboards were donated by central coast shapers Coop DeVille and Stoneman Surfboards. Other items up for bid were donated by 805 Brewery, artwork by Forever Stoked,and miscellaneous surf swag donated by Dewey Weber Surfboards. Surf film director David Parsa (Absolute Mexico), has graciously donated the use of his newly released surf film Chasing Addictionsfor an exclusive preview showing during the awards dinner following the contest.
The fun continues Saturday morning 6:00 am sharp at the Pismo Beach Pier for the annual Surfing forHope Longboard Contest.  An all-day health fair showcasing local businesses and groups will provide cancer education and resources for those going through the cancer experience.  Live entertainment around-the-clock, featuring Grammy award winning artist Louis Ortegaalong with local bands Panga, The Dentures, and the Mother Corn Shucker's will coincide with the contest.
The weekend concludes Saturday evening with theawardsbanquet at Steamer's. All proceeds benefit the Hearst Cancer Resource Centerand the Angel of Hope Fund at French Hospital Medical Center. For information regarding contest and benefit dinner visit:  www.surfingforhope.com
Logo courtesy Surfing for Life Foundation