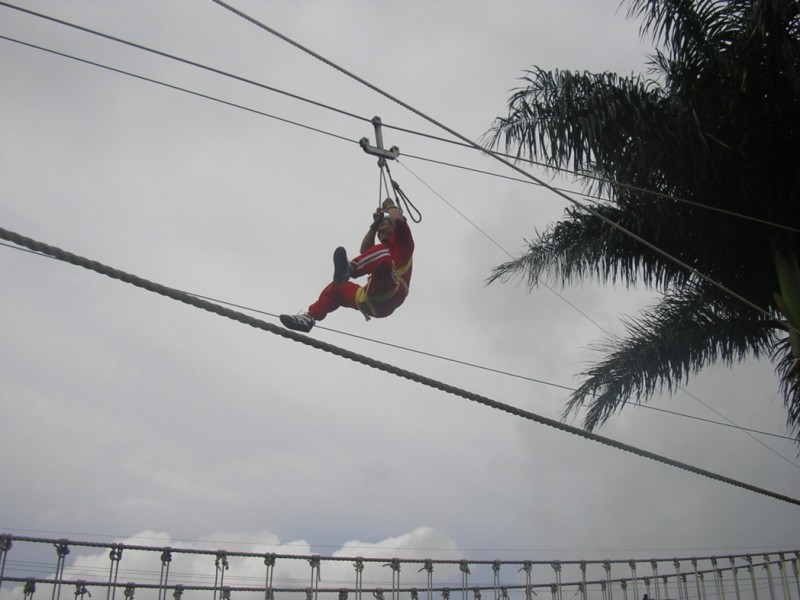 This week in Mexico, zip lines did not simply attract those looking for an extreme sports experience, but rather those who were forced to travel to safety above roads that had become completely washed out by flooding.
The recent days of rain resulted from two large storms, Ingrid and Manuel, which have combined to cover two-thirds of the country. Together they have caused some of the worst storm damage in Mexico in decades. The death toll as of Sept. 17 was approximately 50, but many more people were missing, and USA Today reported that the number was at approximately 80. There were at least 40,000 visitors who were trapped in Acapulco and many of them were or still are seeking shelter at the airport.
Water that is at least waist high on most people has characterized the landscape this week, causing people to find unusual methods of transportation.
"In Mexico, the roads have turned into rivers and locals are acting accordingly—using jet skis in the resort town of Acapulco and swimming to freedom in Chilpancingo," a reporter stated in a video posted by Reuters.
In the state of Guerrero, many locals used a zip line for the first time in their lives, which was implemented to get people from one side of the road to the other by police officers who were assisting in rescues. These people are some of the lucky ones.
"Digging out in Veracruz state after a landslide buried two homes and a bus, rescue workers inspected the soil searching for bodies of the 12 people killed here," the Reuters reporter said.
Officials from Mexico said because of these storms, they are left having to deal with the worst natural disaster in the history of the country.
According to a USA Today article that was posted Thursday, the evacuation process for the tourists stuck at the airport has begun.
"Now upgraded to a hurricane, Manuel, which hit Acapulco as a tropical storm, is on a path toward Mexico's west coast," the article stated. "The U.S. National Hurricane Center has issued a hurricane warning for La Cruz to Topolobampo, and a watch for Cabo San Lucas to San Evaristo."
Image from Trawas Outbound Provider on the Wikimedia Commons