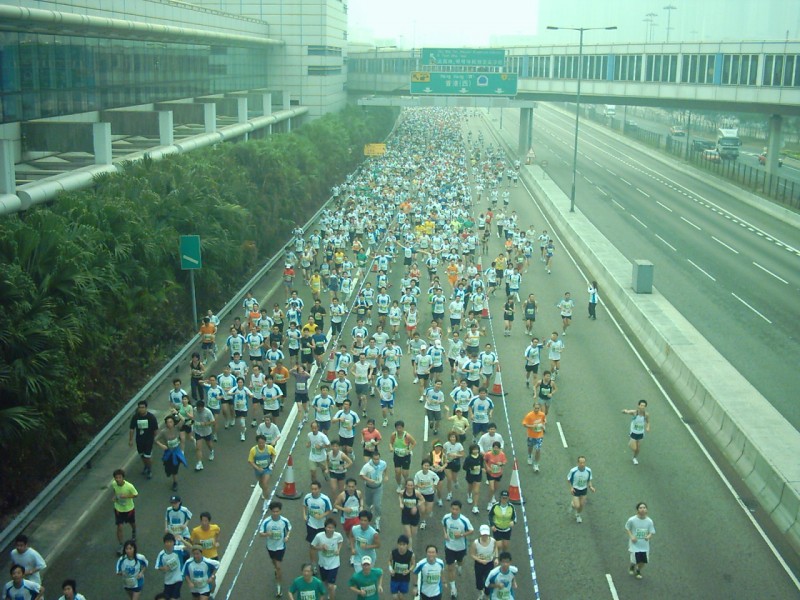 The officials of the Standard Chartered Hong Kong Marathon have launched a campaign that brings awareness to the number of injuries that are acquired during the race from runners taking "selfies" on their phones.
According to an article by the South China Morning Post, Standard Charter's chief executive Benjamin Hung Pi-chen said he wants the marathon's organizers to encourage participants to stop taking self-portraits during the February race because of the number of accidents that are caused by people not paying attention.
"We want people to apply a little bit of common sense and discipline. At the end of the day, we want this to be run safely," Hung said.  "It not only endangers themselves but endangers a lot of people running behind them."
Although it is unlikely an outright ban on taking self portraits will occur, Hung is encouraging runners to remember the injuries that occurred this year after several runners slowed down to take photos, which caused a pile-up of people. He is asking the organizers to use Facebook, television, and other marketing tactics to promote the anti-selfie campaign. Race organizers have been directed to hold up signs that remind runners to avoid taking photos that could distract them and hold up the race.
One of the runners injured last year was Hong Kong triathlete Joyce Cheung Ting-yan, who recovered from her fall and went on to win the women's 10-kilometer race.
The expected number of participants for next year's race is 73,000 people.
"This year we haven't gone up significantly on numbers, but we have added extra races in both the full marathon and half-marathon to encourage people to upgrade themselves from the 10-kilometer event to the longer race," Hung said.
For those interested in signing up for the marathon—and not taking selfies during it—can register for the full marathon on October 15, the half-marathon on October 22, the 10-kilometer races on October 29, and wheelchair races on November 5. The races will be held on February 16. According to the Hong Kong Amateur Athletic Association, the prize money has been increased from last year in an attempt to attract elite runners. It has risen from $258,400 to $300,000.
Although the prize purse has increased, which may attract more runners in general, William Ko Wai-lam, who is the chairman of the organizing committee, said the huge number of participants is almost at its quota and mentioned there is only so much room.
"There is a huge demand but we have to take into consideration the road capacity, with the route remaining the same as this year," he said.
Image from Mungs on the Wikimedia Commons