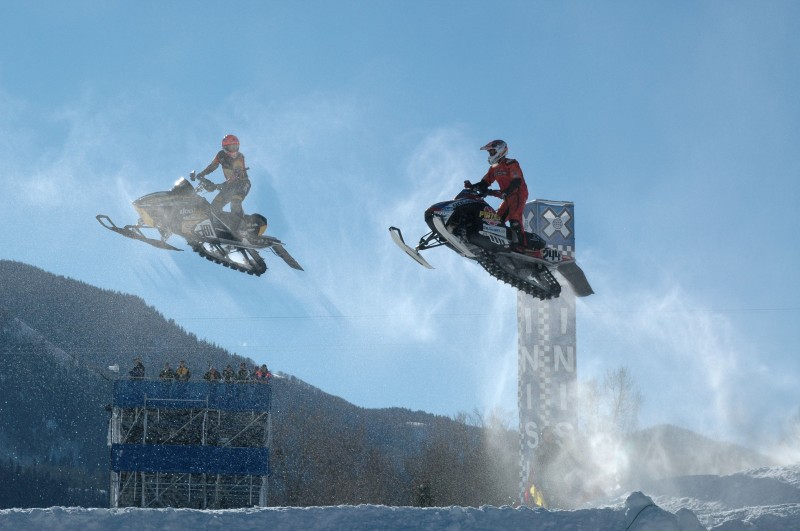 Recently, Popular Science named "Monster" Mike Schultz's custom-built foot and ankle prosthesis as one of its 2013 Inventions of the Year. Unlike many others in the industry who develop them for amputees, Schultz is a former X Games medalist who wanted to create an effective prosthesis for athletes.
The athlete has won four medals at the X Games for both snowmobile and motocross racing, but during a race in 2008, his life changed. Schultz, 32, was in the midst of a snowmobile race when he started to lose control of the vehicle.
"We were coming down a really rough mogul section and my machine started going side to side. I wasn't able to hang on to it, and it kind of kicked me off to the side," he said in an interview on CNN. "Instantly, the most pain I've ever been in. I tumbled away from my snowmobile, stopped rolling, and my boot is on my chest."
When he made it to the hospital, doctors discovered he had a compound fracture along with a severed artery. His condition wasn't improving after a few days and something had to be done.
"My kidneys were shutting down," he told CNN. "Basically I was getting poisoned from the inside out."
Schultz's doctor told him in order to live, his leg would need to be amputated.
"When he said that, I was like 'Now what? I'm a professional athlete. This is what I do for a living, I train year-round, and now I'm not going to have a leg,'" he said. "That was a hard one to swallow."
Rather than be discouraged by his amputation, Schultz decided he would do everything within his power to get back on his feet. After a mere five and a half weeks, he was walking on his first prosthetic leg, and was back on a snowmobile several weeks after that.
Schultz, who was an inventor even before his accident, said he began to notice the availability of a prosthesis on the market that fit his athletic needs was non existent. He took matters into his own hands and attempted to create one.
He started experimenting in his own racing garage, where he used a combination of mountain bike shocks and custom-made parts.
"I bolted it on and kind of squatted and jumped up and down and I'm like, 'This might just work,'" he told CNN. "I went over to the dirt bike, fired it up, and within minutes I knew that I was on to something good."
The name of this first model was the Moto Knee. He said because of its spring return, it helped him stand up, and its hydraulic damping absorbed the impact after landing from jumps.
After Schultz created the prosthesis, he said he felt confident he could get back into racing. After only seven months since his surgery, he took the X Games silver medal in Adaptive Motocross—a race that includes riders who have had injuries. The following year he took gold.
"I started to meet these other adaptive athletes and see that they could benefit from something like this. And I'm thinking, 'I should start a business out of this'," he said.
After founding BioDapt, which produces prostheses for extreme sports athletes, he realized the other people who could benefit from his invention. There are a number of wounded veterans who have now become his customers.
"We are able to get them Moto Knees and back in action on things that they want to do," Schultz told CNN. "Something that I've built in my shop is allowing them to shred the slopes. It's so rewarding."
Although Moto Knees were the first creation, he expanded to include the Versa Foot, which is a foot-ankle assembly that is made for snowboarders and skateboarders. Together, the two parts complete an artificial lower limb that's impact-resistant, waterproof, and quickly customizable for a range of high-performance activities, Popular Science reported.
For more information about Schultz, check out his website.
Image from Arthur Mouratidis on the Wikimedia Commons