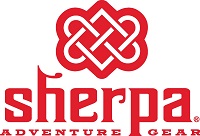 Sherpa Adventure Gear is pleased to welcome two new sales teams to its family to represent the growing outdoor apparel brand in the Southeast and Upper Midwest territories, effectively immediately.
In the Southeast, Adventure Marketing Group's team of Tom Hammond, Bo Boran, Alex Cavner and Annalee Woodie will support the brand in 11 coastal and Gulf states stretching from Virginia to Florida and west to Louisiana.  Adventure Marketing Group has 14 years in the field as a sales team, and currently represents Oboz, Deuter, Leki, Adventure Medical Kits, Exped, Stanley, Western Mountaineering, MShades and Snow Peak.   The team has extensive specialty retail experience in the region, including at High Country Outfitters, Rock Creek Outfitters, Mast General, Blue Ridge Mountain Sports, Diamond Brand and River Sports Outfitters.  For more information, contact Adventure Marketing Group's Chattanooga, Tennessee office at 678.429.4822 or write to [email protected].  The group is also based in Damascus, Virginia and Asheville, North Carolina.
In the Upper Midwest, Paul Gerten of Gerten Outdoors and his associate Charlie Anderson will cover Wisconsin, Michigan's Upper Peninsula, Illinois, Missouri, Kansas, Nebraska, Minnesota and the Dakotas.  Gerten Outdoors is based in Minnetonka, Minnesota and counts Alpina, Gregory Mountain Products, Nemo Equipment, Ruff Wear, Seal Skinz, Snow Peak and Zamberlan among its lines.   Paul began his career as a product representative about 10 years ago and founded Gerten Outdoors in 2006. Charlie Anderson, who lives in Wisconsin, has worked with him since 2009.  Both are avid adventurers, and promote active participation in the outdoors through clinics, educational trips for school groups, demos and industry events. For more information, contact Paul Gerten at [email protected] or 651. 485.7087; Charlie Anderson can be reached at [email protected] or 404. 544.5897.
The two new rep agencies joining Sherpa Adventure Gear are directed by Bill Chandler, who joined Sherpa the company in April as Sales Director for North America. Chandler is responsible for sales strategies and expanding the dealer network for Sherpa Adventure Gear in the United States and Canada.
Logo courtesy Sherpa Adventure Gear