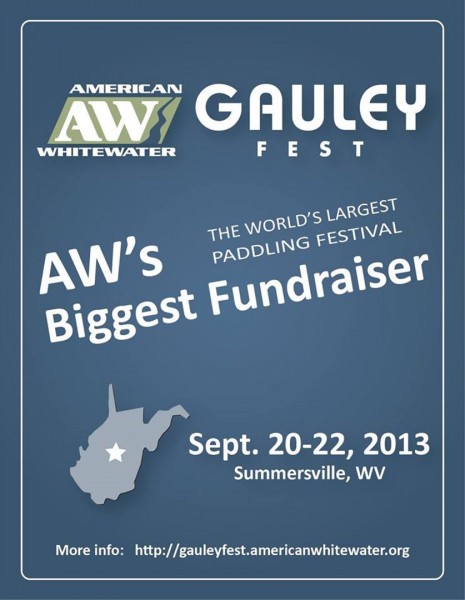 Wave Sport, Dagger, Adventure Technology, and Bomber Gear continue their support of American Whitewater
Confluence Watersports brands are once again supporting American Whitewater at the 30th annual Gauley Fest in Summersville, W.V., September 20-21, 2013. These brands will work to raise money and awareness for the organization by raffling off kayaks and paddling gear and hosting events throughout the weekend. Started in 1983, Gauley Fest is the biggest annual fundraising event for American Whitewater and the largest river festival in the world.
Confluence's brands have been longtime supporters of American Whitewater and its mission to conserve and restore America's whitewater resources. Dagger, Wave Sport, Adventure Technology, and Bomber Gear recognize the importance in getting out on the river to celebrate with the whitewater community, and this year's Gauley Fest will do just that, in addition to celebrating thirty years of protection and releases on the iconic Gauley River.
"Gauley Fest is an exuberant celebration of whitewater, rivers, and community, a perfect blend of everything that Confluence values," said Jessica Prescott, marketing manager at Confluence Watersports. "Not only is this a spectacular weekend event, it also benefits an organization that truly makes a difference in the river community at large and helps protect the rivers we all love. We are excited to have some fun on the water and support American Whitewater again this year."
Wave Sport, Dagger, Bomber Gear, and Adventure Technology will be hosting booths at Gauley Fest where each brand will be raffling off prizes. Wave Sport will be raffling off a shiny new Recon. Dagger will be giving away a custom blue and black Green Boat, a kayak designed for steep creek racing and inspired by the Green River Narrows in Tennessee. One lucky winner will take home a cash prize from Adventure Technology, and Bomber Gear is raffling off a Bomb Dry Suit and donating a sprayskirt to the silent auction. Raffle tickets are $5 each or 5 for $20 and will be sold in each brand's booth. As in past years, all proceeds from the weekend benefit the whitewater preservation work of American Whitewater. Ticket holders must be present and able to take home their prizes the night of Saturday, September 21 to win.
In addition to donating raffle prizes,Adventure Technology (AT) is sponsoring "Ladies on the Lower G," an event organized by AT athlete and Girls at Play founder, Anna Levesque. For the 10th year in a row, Levesque will lead the all-women event, paddling the Gauley as a team to help women kayakers gain confidence. "Ladies on the Lower G" will take place on Friday, September 20, and all proceeds from the event will support American Whitewater.
Team Dagger and Team Wave Sport athletes will be out on the water and engaging with the river community throughout the weekend. Stop by the Dagger and Wave Sport booths to meet the athletes, play some games, and relax with a cold beer.
To learn more about Gauley Fest and support American Whitewater, click here.
Image courtesy Confluence Watersports