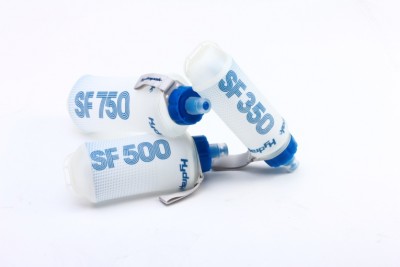 Hydrapak, a leading global supplier of active-lifestyle hydration equipment, is pleased to announce the full retail introduction of its SoftFlask line.  Now offered in five different lightweight sizes, the flasks are designed for wide-ranging recreational uses from running, hiking, rock climbing and winter sports.
Hydrapak Director of Engineering Sam Lopez says, "The SoftFlask is one of the most innovative hydration products to hit the market. The SoftFlask replaces a stiff bottle with a soft bottle that collapses as the water is consumed and uses the same soft and strong materials as Hydrapak's  legendary hands-free hydration."
Expanding on the first models– the SF150 (5oz) and SF250 (8oz) – primarily used as gel flasks, Hydrapak's new, larger SF350 (12 oz.), SF500 (17 oz.) , and SF750 (25 oz.),  water-centric SoftFlasks feature a wider cap with shut-off option for easy filling and security with silicon bite valves for maximum flow. Additional highlights include optional carry straps and dust covers for more demanding conditions.
The ISPO award-winning design introduces modularity to the hydration lexicon.  Having a versatile, easily-compressed and stored SoftFlask is perfect for multisport users looking for a multifaceted hydration solution. "They are as easy to use as sipping from a straw and it's pretty awesome how much space you can save as they collapse" says Lopez. "There's finally an alternative to lugging around your empty water bottles on your way down the mountain."
Highly functional for hydration, fueling or recreational use, the SoftFlasks are highly anticipated for the outdoor minimalist traveler and lightweight trainer.
The SFO350 (12oz), SFO550 (17oz), and SFO750 (25oz) sized options are slated for full retail distribution in late October 2013.
Image courtesy Hydrapak