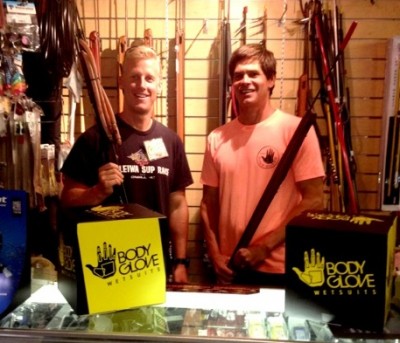 Body Glove international is proud to announce their newest Sales Representative, Myles Padaca. Myles will cover the state of Hawaii for Body Glove apparel, wetsuits, PFD's lycra and swimwear.
Myles, who was born and raised in Hawaii, has been professionally surfing for 15 years. He is committed to increasing Body Glove's presence throughout Hawaii and across the North American market with his specialized knowledge and expertise. In 2001 Myles was named the Vans Triple Crown Champion by being the best overall surfer in the Reef Hawaiian Pro, the World Cup and the Pipeline Masters.
"We are thrilled to welcome Myles as our new sales rep in the Hawaiian Island market, he brings an heir of professionalism and service to the local retailers in Hawaii. We are eager to work with Myles to grow this territory," states Body Glove International's Vice President of Marketing, Scott Daley.
"I am really excited about adding Myles to the Body Glove retail alliance. Growing up in Hawaii and being a professional surfer has given Myles knowledge about the market place that would take most reps years to learn," states Mike Vavak, Body Glove's Surf Division Sales Manager. "He has already hit the ground running and had several key retailers pre-book the new Jamie Obrien signature top."
Together with the Body Glove team of surfers including Jamie O'Brien, Zeke Lau, Imai Devault, Garrett McNamara, Dave Wassel and Crystal Dzigas, Myles will bring Body Glove to new level of sales and marketing objectives in Hawaii.
For more information on Body Glove athletes and products go to www.bodyglove.com and for daily updates visit www.facebook.com/bodyglove
Image courtesy Body Glove