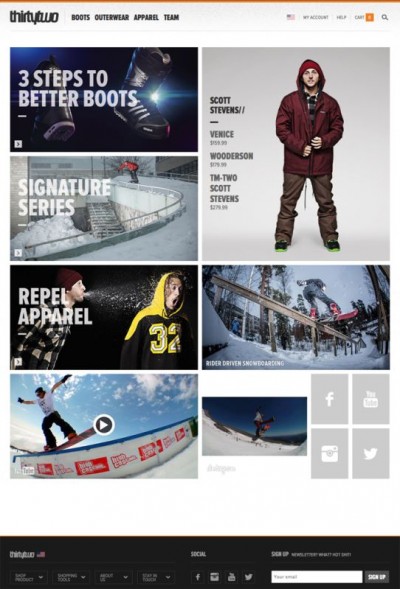 The long hot summer is finally coming to an end, and ThirtyTwo launched the new global site today. The new ThirtyTwo.com has an online store featuring all the new outerwear, boots, apparel and accessories just in time to gear up for the upcoming winter season.
The site is also chocked full of new videos with the latest ThirtyTwo Mt. Hood Spot Check, STI Repel, Signature Series and Boot Tech videos.
The new Mt. Hood Spot Check on thirtytwo.com might be the best one yet.  It's stacked with snow and skate bangers of the ThirtyTwo team up at Mt. Hood riding High Cascade, Windells and Timberline this summer.
Whether it's Mother Nature puking wet snow or your friend spraying you with water – ThirtyTwo's STI Repel treatment will help keep you dry, warm and comfortable.  Click through this link and see if you can keep a straight face while watching this video of Stevens and Grenier: thirtytwo.com.
The entire winter 2013 ThirtyTwo collection of apparel features STI Repel.  Liquids roll off the surface of products with STI Repel, resisting soaking or staining.
The signature series outerwear, boots and apparel ThirtyTwo created for Joe Sexton, Scott Stevens, JP Walker, Chris Bradshaw and Chris Grenier has a flavor for every style from those that run it loose, to tight and somewhere in between.  Watch the Signature Series video here: thirtytwo.com.
For the latest on ThirtyTwo, connect with the brand here:
Image courtesy ThirtyTwo/ Master Plan PR