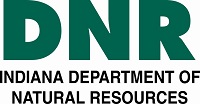 A guided hike on Sunday, Sept. 29, offers one of the last chances to see Monroe Lake's Stillwater Wildlife Resting Area before it closes to hikers for the winter.
Stillwater is on the north portion of the lake off State Road 46 between Bloomington and Nashville. Lake officials flood the area from Oct. 1 through April 15 to create a seasonal wetland for migrating birds.
Monroe Lake naturalist Jill Vance said a hike through Stillwater offers excellent opportunities for viewing wildlife and beautiful scenery.
The 90-minute hike begins at 10 a.m. It is free, but registration is required by 5 p.m. on Sept. 28 by calling the Paynetown Activity Center at (812) 837-9967. Directions to the meeting location will be given to hikers when they register.
Monroe Lake is at 4850 South State Road 446, Bloomington, 47401.
Logo courtesy Indiana Department of Natural Resources