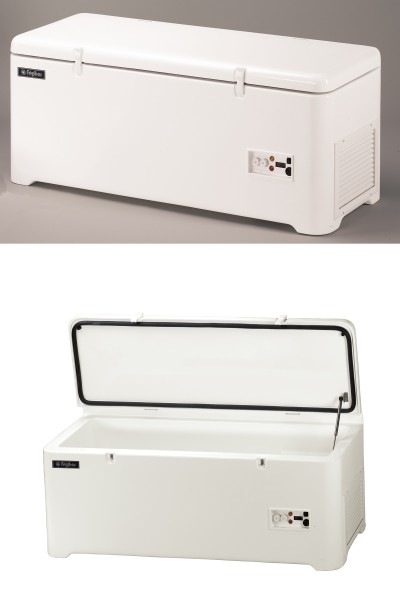 Having frosty drinks or frozen items at hand makes a great day on the water even better. The SW Class Cockpit Freezer/Refrigerator from Frigibar transforms boat owners' wishes into reality with convenient on-deck access to exceptional marine refrigeration power.
This versatile unit meets refreshment needs of any outing, whether long or short. Equipped with dual temperature control, it can serve as either a freezer or refrigerator. High efficiency copper/aluminum heat exchanger coils maintain food and drink, whether frozen or chilled, at precisely the right temperature.
Frigibar's SW Class Cockpit Freezer/Refrigerator delivers the same premium features and fine crafting found in far more expensive custom-built products. Built to last, its heavy duty high-low pressure compressors deliver extra cooling power. Temperatures are both constant and uniform, thanks to cooling coils hidden inside the walls, and a hidden compressor air flow path that negate cooling obstructions.
Frigibar designs its products to withstand harsh marine conditions in all climates. Built on hand lay-up molds, the cockpit freezer/refrigerator's all-fiberglass construction remains impervious to rust. A heated gasket seal prevents condensation in hot weather, and also keeps the lid from freezing closed in cold climates. The box's superior finish contributes to both its attractiveness and durability.
Small but important details, like the stainless steel gas spring-actuated lid support and heavy duty stainless steel hinges and hardware, set the SW series apart. Indicator lights alert users to defrosting or power outage. Defrosting also activates a Sonalert audible alarm. Operation can be monitored at a glance with the digital temperature display. The box's porcelain-smooth interior finish makes cleaning a breeze.
Designed to fit aboard almost any craft, the SW Class series comes in seven different sizes. Boxes weigh between 100 and 175 lbs., and come in lengths of 40, 50, 60, 70 and 80″, with a width and height of either
22″ x 24″ or 22″ x 33″. All SW Class models open from the top, with an offset hinged lid to promote maximum utilization of deck space.
Users can purchase an optional fiberglass cradle mounting assembly that secures the freezer to the deck and enhances its built-in appearance. Frigibar also offers optional 1-1/2″ high-density foam cushion tops for every SW Class model. These low-profile seating accessories contribute luxury and comfort without adding excess height to the box. Frigibar also makes matching deck boxes that will impart a custom look to any craft.
A foremost manufacturer of marine refrigeration, Frigibar proudly supplies its products to many of America's most prestigious boatbuilders. Hand crafted to meet exacting standards, every Frigibar unit is covered by a three-year warranty on the box and one-year warranty on the motor. SW Class Freezer/Refrigerators start at $5,140 with cushions at $316. The optional cradle mount assembly costs $200.
Image courtesy Frigibar