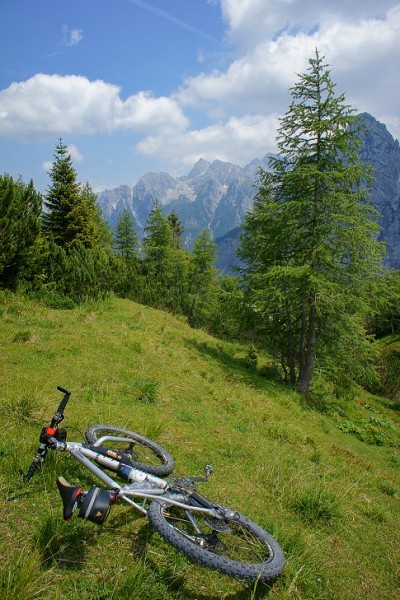 The question of whether or not ski hills should be used as mountain biking areas during the warmer months has stirred up heated conversations in the outdoor community. In a recent article on Outside, the effects of using mountain bikes on these ski hills was examined, first fueled by a speech President Obama gave this summer about climate change in connection with the tourism industry.
"Mountain communities worry about what smaller snowpacks will mean for tourism," Obama said.
To deal with winter seasons that are characterized by limited amounts of snowfall, some ski resorts have started to offer mountain biking and other activities during the warmer months. While many of these resorts have utilized ski lifts year-round for some time now, employing them to transport mountain bikes, they are beginning to put more effort into customizing land for the sport as well. Some places are going as far as building mountain bike paths, showing that the sport is now a staple of business.
Because of these unreliable seasons, more resorts are likely to jump on the bandwagon of creating new trails. The arguments arose because of the approval given to the operator of Oregon's Timberline Ski Area, RLK and Company, to build a 17-mile downhill mountain bike trail network. This has generated a legal battle that goes far beyond the traditional complaints associated with building new trails, as organizations have teamed up to file an appeal to the go-ahead decision given by the Forest Service to the proposal in 2010.
Organizations against the idea include the Sierra Club, Northwest Environmental Defense Center, Friends of Mount Hood, and Bark, which is a watchdog group. The appeal was submitted in 2012, and after being denied in May of this year, the groups have now filed suit.
"They allege Timberline is already failing to mitigate negative environmental impacts from recent developments, that the decision was made without thinking about cumulative impacts of other current projects on the hill, and that the bike park would only exacerbate the flow of sediment into nearby waterways that flow into salmon and trout habitat, further erode the mountain's native flora and apply undue stress to wildlife," Outside reported. "RLK is under an injunction to not break any ground on the project until the lawsuit runs its course."
Those in support of the new trails have not shied away from retaliating. Communications Director for the International Mountain Biking Association Mark Eller said, "Opponents have made some remarks about mountain biking being inherently destructive, and we would oppose that on every level."
He said IMBA acknowledges that outdoor activities all have some sort of impact on the world, but mountain biking is not that heavy of an impact, and the organization therefore supports the planned build. He said the real question is whether or not there is a need for the trails to be built at Timberline – and said a Forest Service environmental assessment has shown there is.
It seems the real concern lies around making official trails, even though "bandit trails" have been made already. David Corbin, vice president of planning and development for Aspen Skiing Company, told Outside that a maintained system of trails may dissuade mountain bikers from creating their own trails, therefore limiting the invasion of wildlife that is already occurring. Right now, people are going where they want, and that could be having its own negative impact on the environment, and he suggested keeping them in specific areas while riding.
In addition to the organizations fighting the planned build being classified as within the outdoor industry – typically a group that supports builds such as this – there are many mountain bikers who are standing up against it as well, which is proving to be unusual and therefore is gaining attention. In an article published in Bike Portland, Bark Board Member Amy Harwood called the proposal "a luxury theme park for the dwindling leisure class," mentioning that only a certain number of people can afford entrance to these trails.
"The Timberline bike park is a corporate scheme to have more weeks of the year attracting cars to larger and larger parking areas that have been poured over our remaining wild creeks and meadows," she wrote. "A ticket to use the resource-intensive chairlifts cost the price of a week's worth of groceries. And the routes downhill are not the reused ski trails you might hope for, but rather a new scar on the face of the mountain."
Image from Petar Milošević on the Wikimedia Commons