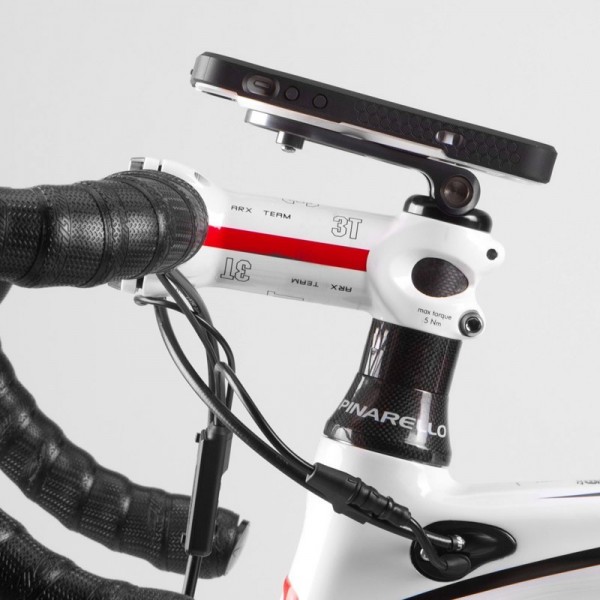 Rokform, a leading manufacturer of smartphone accessories for active lifestyles, showcases a wide array of technical accessories for bike enthusiasts at Interbike 2013. Displaying a complete product line up at booth #30177, Rokform smartphone mount and protection solutions are the choice for top professional cyclists.
The company is proud to highlight the v3 BikeMount, which is machined from 6061 T-6 aircraft grade aluminum and 304 stainless steel, while weighing in at a svelte 64 grams. The mount is completed with an adjustable viewing angle assembly and easily installable design. A dual retention lock system utilizes the RokLok attachment mechanism and rare Earth magnets to prevent any movements during on- or off-road journeys.
Once installed, the BikeMount ensures riders' smartphones are easy to access and provides undistracted interaction while maintaining proper attention on the roadways. Using a smartphone for navigation, Strava, or your favorite cycling app are all made simple with the mount. Less than an arm's reach away, operability is simplified and rider safety drastically increased.
"Whether training with it or using it for navigation, the bike mount puts the phone right in front of you," states six-time Masters XC national champion Johnny O'Mara of the Rokform BikeMount. "It's a great, solid product, and I don't have to worry about my phone if I'm out on a 30 mile training ride."
Part of a complete accessory system, the v3 BikeMount pairs specifically with Rokform's iPhone and Samsung smartphone cases. Additionally, a variety of components will attach to the ruggedized cases through the same RokLok assembly point. Accessories range from a durable bottle opener, dubbed the Rokmeister, to a Remote Mounting System, perfect for the bike shop tool bench or vehicle dashboards.
These highlighted accessories and other product lineups will be featured at Interbike booth #30177. For additional information or to schedule a demonstration appointment, contact Rokform's Marketing Manager. Images and product descriptions can be found at www.rokform.com or track Rokform via Twitter and Facebook at /Rokform.
Image courtesy Rokform