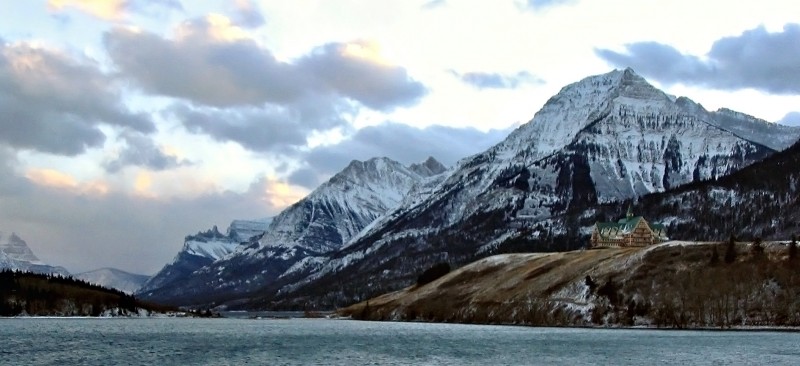 On Sunday, Marc Ankenbauer achieved his goal of jumping in every lake in Waterton-Glacier International Peace Park – a task that has taken him 10 years to complete. The significance of these jumps went beyond the swimmer simply wanting to experience the outdoors, but it also helped raise money for a camp that offers free programs to cancer patients and their families.
When Ankenbauer, now 37, was a teenager, he was diagnosed with what he called a "brief bout" with cancer.
"Although no time with cancer is exactly brief, it is something you think of often and drives your actions throughout life," he said on his website. "This has instilled a powerful drive in me to experience life and its spectacular opportunities to the fullest. This ideology was the catalyst in attempting my project."
Ankenbauer connected with Camp Mak-A-Dream, which is located in western Montana and provides medically-supervised, cost-free programs for children, teens and young adults who have cancer, as well as supporting their families along the way. To help benefit the organization, he set out to jump in the 132 named lakes in Glacier National Park as well as the 32 lakes in the adjoining Waterton Lakes National Park. Glacier National Park in Montana connects with Waterton Lakes National Park across the border in Alberta, Canada. After subtracting the two lakes that are on the border of the parks, it totaled 168 lakes.
"This is the wild mountainous area where the Rocky Mountains run over the U.S./Canadian border," he said on his website. "It is over a million acres of enormous mountains, dense forests and abundant wildlife, which includes the king of the forest, the grizzly bear. Luckily for me, the glaciers and snow melt have created hundreds of frigid, crystalline lakes for me to jump into."
He was inspired by Sir Edmund Hillary, the Mount Everest explorer who is recognized as the first man, along with his climbing partner, to reach the summit of the famous mountain.
Ankenbauer utilized his job as a seasonal park employee to help reach his goal. The final lake he jumped into was Fishercap Lake in Glacier National Park, located a mere 10-minute hike from the trail head, chosen precisely so his family and friends could be there to help him celebrate.
In regard to the target he set more than a decade ago, he told the Great Falls Tribune it "seemed unapproachable enough that it would be an epic life adventure, yet doable enough that I might be able to do it."
He said this journey has consumed his entire summers, with almost all of his free time spent planning the jumps, hiking to lakes, and finding people to tag along with him. He told The Spokesman-Review that he hasn't been to an event like a music festival during this entire span.
Ankenbauer said the most challenging part of the whole process was reaching lakes that had limited or no trail access, noting that hiking through remote locations was common. When he reached the lakes, he went for a full swim in some and only dipped in others.
"The neck and down is pretty much my prerequisite," he said, mentioning he has been in lakes still housing ice.
The swimmer gave credit to trail crew members, avid outdoors enthusiasts in the park, and biologists for finishing his adventure.
"If it wasn't for the insight of all those people this would have taken 20 years," he told The Spokesman-Review.
To learn more about Ankenbauer's story and read detailed accounts of his lake jumps, check out his website.
Image from Gorgo on the Wikimedia Commons