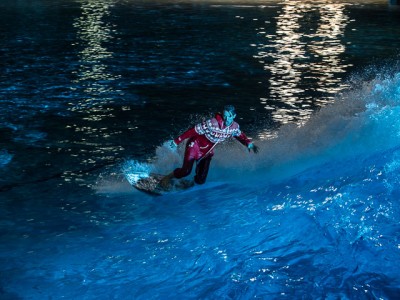 $35,000 raised in the SIMA Humanitarian Fund Campaign launch
The second annual Stokes Me Surf Contest raised upwards of $35,000 on Saturday, more than doubling last year's contest funds and positioning the SIMA Humanitarian Fund's Stokes Me campaign to be off to a successful start. The contest, held during the Surf Expo Industry Party presented by Sanuk at Disney's Typhoon Lagoon, saw 15 surf industry teams compete for the crowd's approval for the best – or most unique – surfed wave.
This year Asher Nolan and Zach Hartley were deemed the Stokes Me Surf Contest winners, surfing the contest for the Hurley Team. Team Liquid Tribe (Aguerre Bros) contestants, Chris Clark from Shaper Studios and Mark Pontius from Foster The People, were awarded the Best Dressed team as they surfed in the contest while wearing Christmas onesies purchased on the Surf Expo show floor. Other fan favorites included Dave Rastovich surfing the wave pool on a board with no fins, the legendary duo Gregory Harrison ("Chandler" from the cult-classic film North Shore) and Jeff Clark making an appearance in the pool. And Sanuk team members, Jeff Booth and Bob Soven, shook things up by riding tandem. The memorable contest was emceed by Peter "PT" Townend and Scott Bass and all boards were provided by Scott Guinto Surfboards and BIC Surfboards.
The Stokes Me Surf Contest served as the kick-off to the main component of the Stokes Me fundraiser, a month-long campaign in which surf industry retailers, brands and consumers join forces to raise funds for the 2013 SIMA Humanitarian Fund beneficiaries. Throughout the month of September, participating retailers will ask their customers to add a dollar to their purchases to support the humanitarian efforts of the beneficiaries. While retailers and consumers are committed to raising funds on their end, surf industry brands have also committed to donate anywhere between $1,000 and $10,000 to Stokes Me.
All of the funds raised during Stokes Me will be given directly to 11 surf-related humanitarian organizations dedicated to improving the quality of life, health and/or welfare of people. For a complete list of beneficiaries and more information on how to get involved, visit www.stokesme.org.
Image courtesy Surf Industry Manufacturers Association