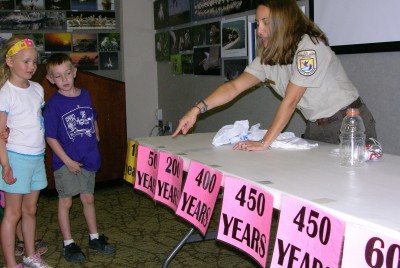 J.N. "Ding" Darling National Wildlife Refuge will celebrate National Public Land's Day on Saturday, Sept. 28, 2013, on Sanibel Island with a beach clean-up, hiking, and other activities.
The day's events begin at 9 a.m. with Beach Clean-up at the Refuge's Perry Tract. Participants must park and pay at the Gulfside City Park lot. Clean-up ends at 11 a.m.
In the afternoon, talk turns to trash as rangers and volunteers assess the trash collected that morning, discussing how long different products take to biodegrade. The program starts at 1 p.m. in the free Visitors Education Center at the refuge, followed by a showing of the film  Addicted to Plastic.
In the Refuge Nature Store, t he "Ding" Darling Wildlife Society-Friends of the Refuge (DDWS) is giving away a free "Kick the Bottle" reusable water container with a purchase of $5 or more.
National Public Lands Day is presented with support from DDWS. For more information about the event, contact Ranger Becky Wolff at 239-472-1100 ext. 236.
Image courtesy J.N. "Ding" Darling National Wildlife Refuge