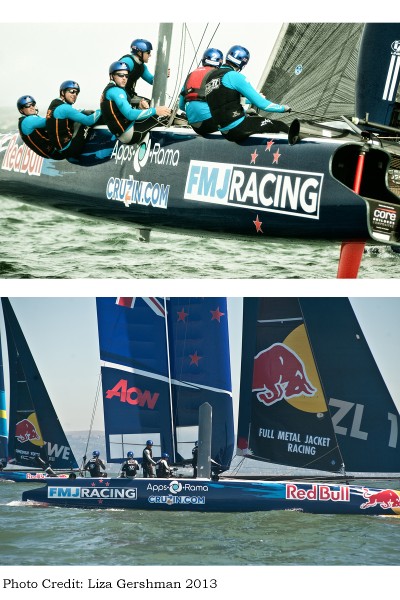 After four days of intense competition, Full Metal Jacket Racing finished in second place overall at the Red Bull Youth America's Cup (RBYAC). The team, made up of crew ages 19-24, is sponsored by Cruzin.com, America's leading Boater-to-Boater™ rental marketplace. Cruzin's mission is to expand participation in boating and supports youth sailing as part of the effort to get more people out on the water.
Ten teams competed at the inaugural RBYAC, which precedes the prestigious America's Cup in San Francisco. With tense moments on the final day and the leaderboard tight, Full Metal Jacket Racing went neck and neck throughout the series, eventually finishing second. Led by skipper William Tiller, Full Metal Jacket Racing competed in a high-performance, wing-sailed AC45 catamaran.
"We're so proud of FMJ Racing's highly talented team of young sailors," said Jaclyn Baumgarten, Cruzin CEO. "We offer congratulations to the team for an incredible finish and hope the success of this team encourages more youth sailing, helping grow the sport overall."
Owners and renters at www.cruzin.com are protected by $1,000,000+ in hull and liability insurance and BoatUS towing services. Renters are screened by Cruzin and owners have full control over who rents their boats.
Image courtesy Cruzin