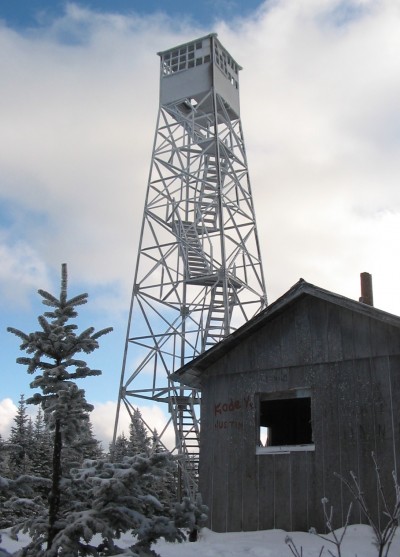 From a restored fire tower atop Bald Mountain's wooded summit, shimmering Lake Willoughby glimmers in Vermont's wild Northeast Kingdom as the rolling landscape ripples across the border into eastern Canada.
The fire tower is one of the state's oldest lookout stations created during a time when 38 such installations were planned for the entire Green Mountain State.
If there is a tower, there is or once was a cabin too, a place where those who manned the binoculars and radios would retire to after a day of work.
That tower has already seen some restorative love, and now it's time for the cabin.
This month the Bald Mountain summit cabin in Westmore will get a makeover courtesy of a Vermont Land and Facilities Trust Fund grant.
The Vermont Department of Forests, Parks and Recreation is coordinating the work with crews from NorthWoods Stewardship Center in East Charleston while volunteers also lend their sweat equity.
"In northern Vermont, most of the original fire lookout stations have been lost or altered," said Luke O'Brien, trail director at NorthWoods Stewardship Center and project coordinator for the Bald Mountain Restoration Effort. "We believe Bald Mountain is the only remaining lookout in northern Vermont where both the original tower and summit cabin still stand."
Surrounded by private lands, the summit of Bald Mountain was purchased by the state in 2000 and is now managed as part of Willoughby State Forest.
According to O'Brien, the current fire tower found on Bald and many other lookout sites was installed in 1938-39 by the New England Forest Emergency (NEFE) organization after the 1938 hurricane to replace an older open-platform observation tower.
The adjacent cabin on the 3,315-foot summit has seen its share of vandalism and deterioration over the years, but the cabin is still sound.
"The cabin has settled right into the ground and the floor members are crumbling from dry-rot, but the upper framing, walls, and roof are all remarkably intact," said O'Brien. "We intend to jack up the structure, re-set the dry stone foundation, and construct a whole new floor system."
Doors, windows, and trim will be added according to the building's original framing and appearance. In addition, the project calls for restoring the building's original cedar shingle siding.
Between 2000 and 2002, volunteers replaced the wooden steps and landing on the fire tower.
Of course, all the material necessary to make the repairs needs to get to the top of the mountain. There are three hiking trails to the top—Telegraph Trail, Long Pond Trail, and Mad Brook Trail.
Plans call for using the Mad Brook Trail, a 2.8-mile pathway, on the peak's north side. That trail is part old woods road and the strategy is to haul in the lumber and supplies about two miles.
From there, the idea is to lug the hoard one board at a time the remaining mile to the summit.
"The Bald Mountain fire tower offers some of the best views in the Northeast Kingdom," said O'Brien. "We hope this project will keep the nearby summit cabin standing for another 90 years."
Image courtesy NorthWoods Stewardship Center