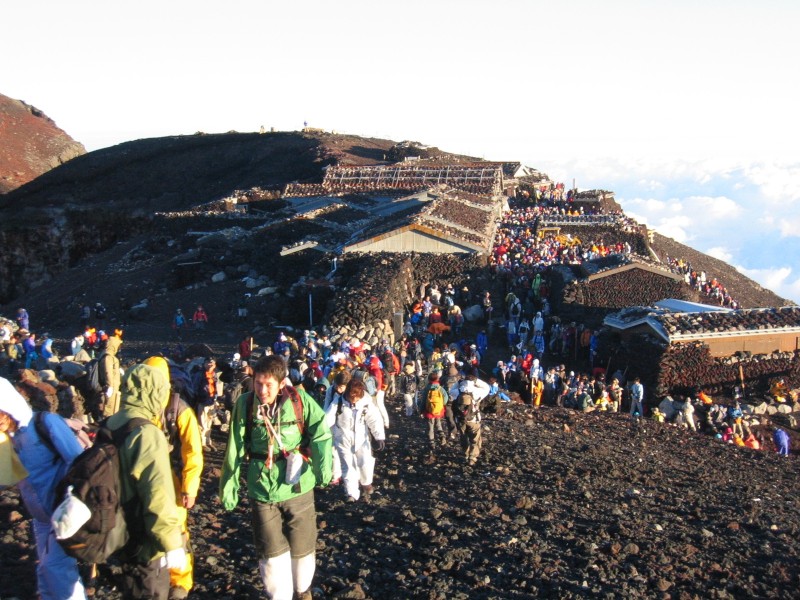 Despite the expected increase of climbers on Japan's Mount Fuji this year, numbers took a plunge and showed a decrease of 14,000 people. Approximately 300,000 people climb the famous volcanic cone every year, which puts the number of 14,000 people into perspective, but the drop was still significant.
According to a Japan Today article, the prefectural government stated the number of people climbing Mount Fuji from the Yamanashi side was 232,682, an enormous decrease from last year. It was expected that the number of climbers would increase this climbing season, which runs from early July through the end of August, because of the destination being named a Cultural Site on the World Heritage List.
The government said the first day of climbing drew in a large crowd, with one and half times the number of climbers who visited during the opening day in 2012. But since then, the low amount of climbers has been evident, with no day reaching more than 8,000 climbers, which is uncommon.
Mount Fuji is Japan's highest mountain, which reaches 12,389 feet and is one of the nation's three "holy mountains," along with Mount Tate and Mount Haku. It is located near the Pacific coast of central Honshu, which is west of Tokyo.
"Officials suggested that public appeals to refrain from 'speed climbs' due to the high number of rescue calls may have been a factor," the article stated. "Also potentially having a negative impact on visitor numbers was the newly-extended restriction on cars in the area, officials conjectured."
According to some of the comments submitted that appear below the article, readers suggested the weather was a factor, saying it was extremely warm, and that parking has also become a problem, particularly how much each vehicle owner is charged.
Image from Derek Mawhinney on the Wikimedia Commons