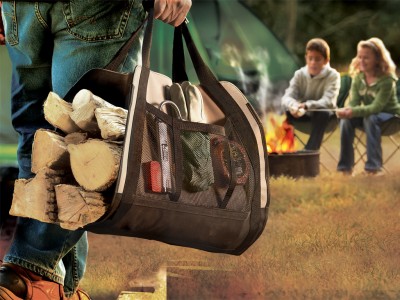 Engineered and built with durability, performance and reliability in mind, the Campfire Carrier gives the hunter and outdoorsman the capacity to bring firewood to camp more efficiently.
Gathering wood for the fire isn't the most glorious job, but Zippo's new Campfire Carrier makes getting it back to camp a little easier and more productive. Made from tough, ballistic grade nylon, the Campfire Carrier can transport an armload worth of wood in one hand, allowing the outdoorsman to carry other equipment or another load of wood in the other hand.  The Campfire Carrier's nylon sling also provides protection from scratches, dirt and any unwanted creatures attached to the wood. Simply open up the 22" x 36" Campfire Carrier, place the wood inside and carry away using the ergonomically designed handle, which helps eliminate pinch-points. For added convenience, the Campfire Carrier also includes large mesh pockets for storing other necessities for starting a fire, such as the Zippo Cedar Fire Starters and utility lighters.
The Campfire Carrier is available now for $24.95.
For additional information, please visit www.ZippoOutdoor.com, follow Zippo Outdoor on Facebook at www.Facebook.com/ZippoOutdoor, Twitter at @ZippoOutdoor, or Instagram at www.Instragram.com/ZippoOutdoor.
Image courtesy Zippo Outdoor