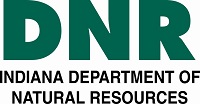 That tree looks great. But what kind is it?
DNR Forestry experts will show how to answer that question during guided tree identification hikes, which debut at the fifth annual Hoosier Outdoor Experience, Sept. 21-22, at Fort Harrison State Park in Indianapolis.
The hikes are one of more than 50 outdoor activities offered free. Activities include just about everything from archery and target shooting, to mountain biking, horseback riding, fishing and kayaking. All equipment is provided. All activities, as well as parking and admission, are free.
About 25,500 people attended last year. Room for more participants awaits in the heavily wooded, spacious, historic 1,700 acres of former Army base. Participants can even bring their own food, although food booths will be selling their specialties.
The Ford Hoosier Outdoor Experience runs 10 a.m. to 6 p.m. each day that weekend. Made possible by the generosity of Central Indiana Ford dealers, the event is presented by the DNR and the Indiana Natural Resources Foundation. The goal is to introduce people to outdoor activities they may have never tried.
Online advance registration at hoosieroutdoorexperience.IN.gov is requested. Watch there or Facebook.com/HoosierOutdoorExperience for updates and details.
Outdoorsy individuals who want to help others learn to share their passion can sign up to volunteer at hoosieroutdoorexperience.IN.gov. For questions about volunteering, contact volunteer coordinator Cheryl Hampton, (317) 233-1002, [email protected].
Whether you participate or volunteer, Fort Harrison State Park (stateparks.IN.gov/2982.htm, 5753 Glenn Road, Indianapolis, 46216) is the place to find free fun on Sept. 21-22.
Fun can be found in the rest of the outdoors of Indiana all year long but it probably won't be free.
Logo courtesy Indiana Department of Natural Resources