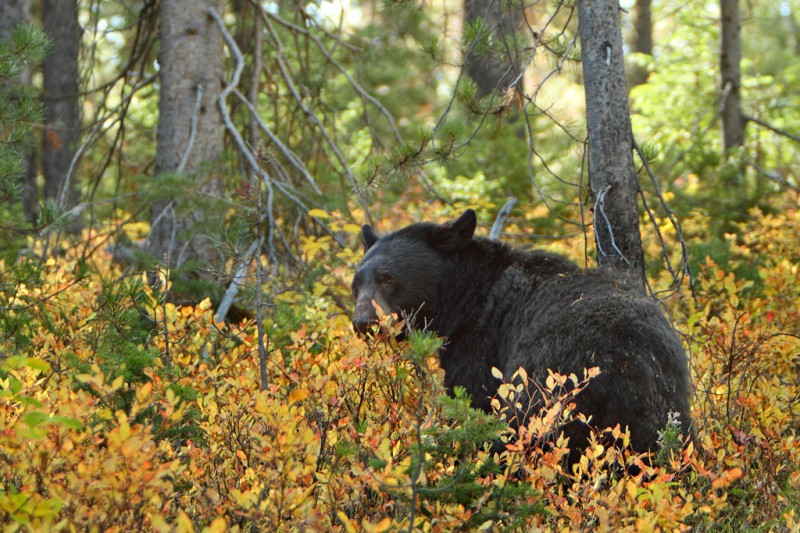 During the Ironman triathlon on Sunday in Whistler, British Columbia, one runner was given an extra boost of adrenaline when he had to avoid a bear that had wandered onto the course. This endurance event incorporates 2.4 miles of swimming, 112 miles of cycling, and 26.2 miles of running.
Salt Lake City, Utah resident Marc Rosello noticed a commotion ahead on the road, which is when he saw a black bear to his right. According to a report by The Salt Lake Tribune, the bear was elevated on the trail about 20 feet from the course and was heading downhill.
"I think to myself, if he comes straight down this hill, we're going to intersect," Rosello told the Tribune. "This could derail a good day."
The bear made its way down the hill and onto the path, but Rosello chose not to turn around. Instead, he ran around the bear and said he hoped he had made the correct decision.
"It gets the heart rate going, that's for sure," said Rosello, who is an occupational therapist at the University of Utah's Sugar House Health Center. "I do rehabilitation, so I wasn't looking forward to going through it with my co-workers."
The triathlete was fine and did not have a dangerous encounter with the bear, but he did admit it caught him off-guard, especially since he was exhausted during this point near the end of the race.
Rosello ended up finishing 10th in his age group and 55th overall, which qualified him for the Ironman World Championship that will be held this October in Kona, Hawaii.
"I had a little extra adrenaline," he says. "I think I'll give the bear a little bit of credit for that mile."
Representatives of Ironman could not comment immediately as to what happened to the bear, and did not know if events such as this have happened in the past.
http://upload.wikimedia.org/wikipedia/commons/9/95/Grand_Tetons_black_bear.jpg Alan Vernon