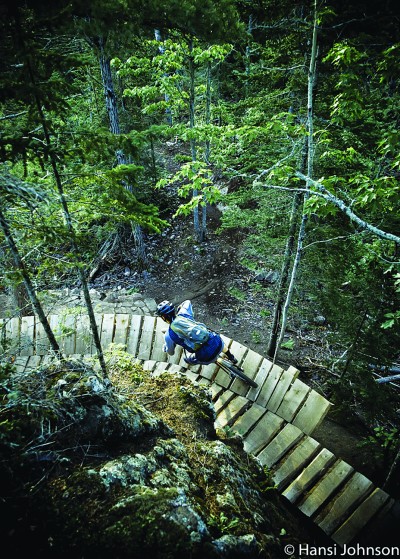 Labor Day weekend ranks among Copper Harbor's busiest. What makes Michigan's northernmost city double—maybe even triple—in population?
That's an easy one-word answer: bikes.
Hundreds of gnarly-looking, full-suspension, muddy, and knobby-tired two-wheelers have been rolling into Copper Harbor the first weekend in September for 20 years, and for most of that time Sam Raymond has there to welcome them.
"In the summer we grow from about 80 year-round residents to 300," says Raymond, who started Copper Harbor's first bike shop in 1998. This year he's guessing 500 or more riders will move into the tiny town to grind up, glide down, fly over the jumps, and pedal the bridges on the Midwest's most technical single track at the 20th Annual Copper Harbor Trails Festival, now sponsored by Michigan-based Bell's Beer.
For Raymond, the vision started back in 1995. That year he hoped to spend a week's vacation exploring the area on his mountain bike but when his bike broke and there was no one in Copper Harbor with the tools or equipment to fix it, his trail time was cut short. He drove back home to Colorado dreaming of opening "an outpost shop at the end of the road."
That dream became reality in 1998 when he purchased the Keweenaw Adventure Company. Now, qualified mechanics with an inventory of parts can not only fix what's broken, but they can also sell or rent top-of-the-line bikes, and shuttle you to a trailhead. Even better, they're also experts on the area's extensive and award-winning trail system.
With 25 miles of trail, first designated by the International Mountain Bicycling Association (IMBA) as a Bronze-level Ride Center in 2011, the area has fast become a destination for Midwest riders. Then, in 2012, the Copper Harbor Trails earned Silver-level status and the attention went global.
"We're now one of the top five mountain bike trail systems, not just in the country, but the world," says Raymond.
"Two other Silver-level Ride Centers are located in the U.S., and one in New Zealand," explains Mark Eller, IMBA communications director in Boulder, Colorado. Copper Harbor is on the list with Sun Valley, Idaho; Oakridge, Oregon; and Taupo, New Zealand. Only Park City, Utah, qualifies as the planet's Gold-level Ride Center.
The criteria for such a prestigious ranking doesn't come easily. The application process is comprehensive and takes basically a year of research, paperwork and extensive site visits. Plus, once status is granted, it has to be renewed. Existing ride centers must apply for re-evaluation every four years.
Members of the Copper Harbor Trails Club don't want to just maintain their silver, they want gold. Part of the long range plan to achieve top status includes a longer-distance trail attracting a wide range of riders. This fall work will begin on the first phase of a Keweenaw Point Trail, a 35-mile loop starting in Copper Harbor and heading out to High Rock Bay.
"We're hoping to get 12-15 miles of that trail underway," says Raymond. "We don't own any land ourselves, but we are working on easements to access roughly 8,000 acres of state land out at the tip of the peninsula."
The most recent trail to be completed will debut Labor Day weekend. Working under the direction of IMBA certified trail builder Aaron Rogers, Raymond and a crew of six full-time paid trail builders have spent the last six weeks focused on the new "Overflow Trail," a true double black diamond downhill ride off Brockway Mountain.