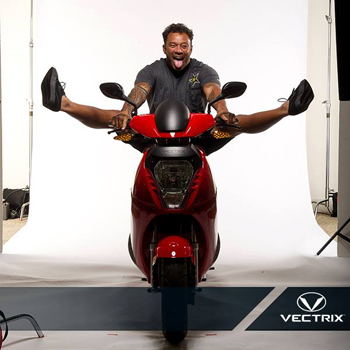 VECTRIX is pleased to announce their union with surfing mega-star Sunny Garcia.  Sunny will become the Vectrix active lifestyle brand ambassador and act as a thought leader and spokesperson to boost Vectrix product and brand awareness. Surfing fans and beachgoers alike can see Sunny compete in events across the world from South Africa to China and in multiple locations in California and Hawaii.  Sunny is a serious athlete who's surfing career includes two ISA Grand Masters World Championships, Six Triple Crown of Surfing titles, several ASP's Men's Most Improved Awards, Most Victories in WQS Competitions (22) and his persona hangs in the halls in the Surfing Hall of Fame in Huntington Beach, CA.  Now with the new relationship between Sunny and Vectrix, he can be seen scooting around the beaches and sporting Vectrix-branded product.
"We are excited that Sunny Garcia is going to be a Vectrix Brand Ambassador," said Brian Buccella, President of Global Sales and Marketing, Vectrix.  "Sunny's personality and lifestyle embodies what it means to be a Vectrix owner and his persona will be an excellent external agent to enhance Vectrix brand awareness."
Sunny will be riding around California and Hawaii on the award-winning Vectrix VX-1. Best known for their all-electric, zero gas emission line-up of two and three wheeled scooters, Vectrix combines world-class core technologies and quality with performance and reliability. The Vectrix mission is to provide environmentally friendly transportation vehicles that are responsive, agile, reliable, and cost-effective. Vectrix products are all-electric, have great range, excellent handling and acceleration.
Key Features of the VECTRIX VX-1:
All-electric with zero gas emissions—no need for oil or gas, and virtually silent operation. Plugs into any 220V/110V standard outlet and charges battery up to 80% capacity in 2.5   hours.
Powerful and fast—Rapidly accelerates to a top speed of 110 km/h (68 mph). Zero to 80km/h (0-50 mph) in as little as 6.0 seconds.
Range up to 136 km (85 miles) on a single charge, battery pack energy density and Vectrix unique patented regenerative braking/throttle technology.
Superior handling due to a low center of gravity, quality components, and even weight distribution.
Low maintenance—with no oil, no filters, and no clutch – your cost of ownership is minimal.
Patented VECTRIXTM Multi-Function Throttle provides regenerative braking to maximize range possibilities and a slow-speed reverse for greater maneuverability and easy parking
Patented VECTRIXTM integrated rear-wheel mounted single stage planetary gear drive.
Low noise for reduced sound pollution
3-time consecutive European "e-Scooter of the Year" award winner (2011, 2012, 2013)
To get the update on Sunny Garcia updates info on what he is doing on his Vectrix follow us on our instagram or Facebook. For more information on Vectrix visit: vectrix.com.
Image courtesy Vectrix