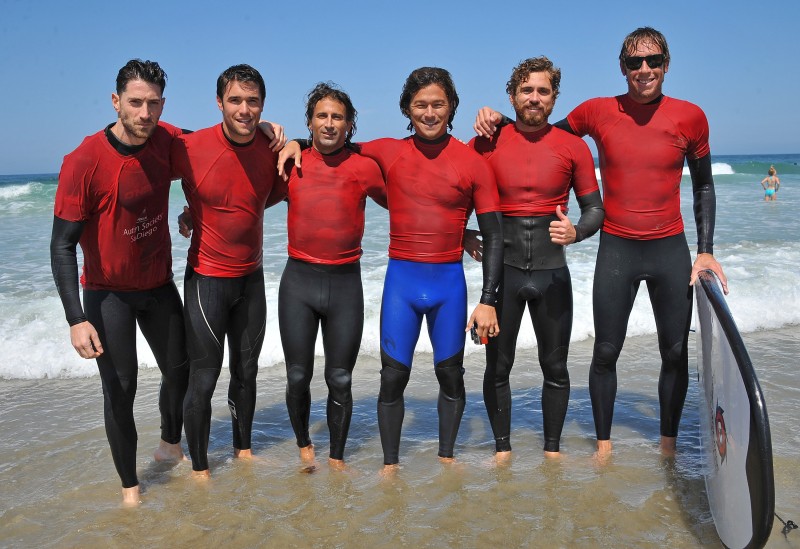 On August 22, the Tommy Hilfiger Group, which is wholly owned by PVH Corp. [NYSE: PVH] and Autism Society San Diego celebrated an ongoing partnership with a day of surfing hosted by actor Josh Bowman and professional surfers Kalani Robb, C.J. Kanuha, and Alek Parker at the organization's annual summer surf camp.
This past June, Josh Bowman and Kalani Robb, along with Gary Sheinbaum, CEO, Tommy Hilfiger North America and InStyle Magazine Fashion Director Cindy Weber-Cleary, co-hosted the opening event for the newest Tommy Hilfiger store opening in San Diego's Fashion Valley Mall, benefitting the Autism Society San Diego. Inspired by Autism Society San Diego's mission and programs, Josh and Kalani came back to dedicate a day to teaching classes at the organization's surf camp. Held at San Diego's La Jolla Shores, the annual surf camp provides five weeks of one-on-one surf and swim instruction to persons with autism ages five years and up.
The Tommy Hilfiger Corporate Foundation's support of Autism Society San Diego reflects the Foundation's ongoing commitment to autism related programs across North America. Through corporate donations and funds raised through consumer events, the Foundation is underwriting Autism Society San Diego's annual Surf Camp program to cover the costs for underprivileged families living in San Diego through 2016.
WHEN: Thursday, August 22, 2013
WHERE: La Jolla Shores, San Diego, CA
WHO:
Josh Bowman, Actor on Revenge
Kalani Robb, Pro-surfer
C.J. Kanuha, Pro-surfer
Alek Parker, Pro-surfer
Iddo Goldberg, Actor
Todd DiCiurcio, Artist
PHOTOS: http://www.wireimage.com/search/#events?q=(177731180)&s=3
Photo credit: Getty Images/Angela Weiss
Image courtesy Angela Weiss/Getty Images