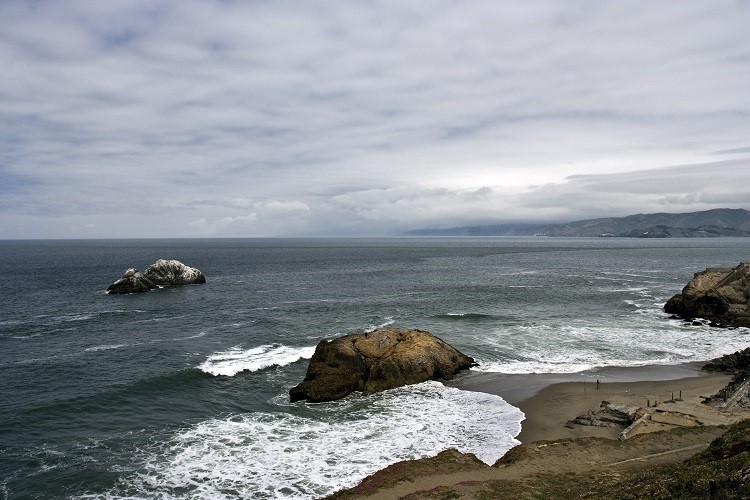 Fred Windisch spent the early 1960s not only surfing the waves at Kelly's Cove in San Francisco, but capturing the moments of others surfers through his photography. Now, years later, his photographs are being released for the public to view.
When he was just 18 years old, and a recent graduate of Washington High School, Windisch began to take both stills and videos of North Coast surf culture. The only places his photographs have been seen are at the Wise Surfboards shop and hanging on the walls of his daughter Laura's apartment, the San Francisco Chronicle reported.
His work is displayed for the first time at the "Bay Area Surf Photography of the 1960s by Fred Windisch" exhibit that is currently open at Madrone Art Bar. This was before modern tools like GoPros were commonly used for capturing action sports, so the late photographer who died in 1994 covered his Canon with Plexiglas and attached it to the front of his foam board.
"People will walk out thinking, 'Wow, that was a magical time for surfing in San Francisco,' " Laura, a 32-year-old copywriter, told the Chronicle.
Bob Wise, an Ocean Beach surfer who was a few years younger than Windisch, said the photographer could be seen surfing most of the time, and photography was secondary to his sport.
"In some of the 24 images, the focus is so sharp that you can see the edge of the board carving the curl and sending up sparks of whitewater. In others, it is so blurry you can feel the chaos and the cold. Nothing looks art-directed or affected. Windisch was a surfer first. That's how he got his eye and his access," the article stated.
The photographs would not have been released if it were not for his widow, Helen. She was trying to show his work and gain exposure by partnering with a surf-movie producer in Los Angeles, but nothing came of the communication and she was unable to get the photos back for a long time.
"When I got back the pictures, I was so frustrated about losing a bunch of them that I said, 'I don't want to do anything with these pictures ever again,' " she said. "So I stuffed them somewhere and forgot about them for 20 years."
Laura said this exhibit coming together was a great process to be a part of.
"I never had the chance to get to know my dad as an adult, so instead of hearing stories about the past, I'm able to see them," she said in the article.
The exhibit will be open through November 15 at Madrone Art Bar, 500 Divisadero St., San Francisco, California (415) 241-0202.
Photo copyright iStock/Joe_Potato