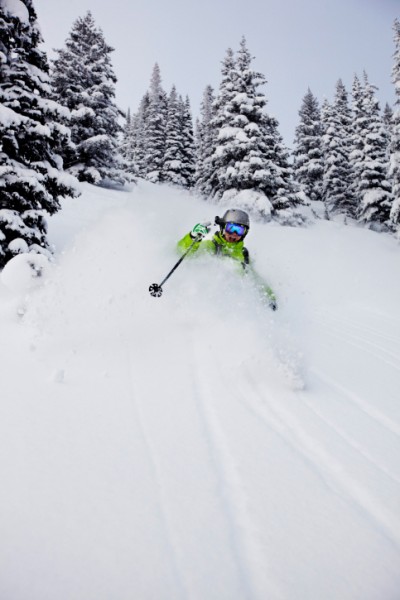 As summer begins to gracefully turn into the golden days of autumn, there are big benefits to planning ahead and thinking of blissful powder days, a fun-filled family vacation on the slopes and a romantic snowy getaway to Crested Butte, Colo. Three outstanding deals with early-purchase dates offer tremendous values to experience "Colorado's Last Great Ski Town, and an expanded flight schedule for this winter features new Chicago air service along with direct flights from Dallas-Fort Worth, Houston and Denver.
The ski season launches on Nov. 23 for Crested Butte Nordic Center and Nov. 27 for Crested Butte Mountain Resort in this pristine mountain valley known for its friendly, free-spirited vibe and outstanding winter recreation that also includes snowshoeing, tubing, dog sledding, horseback riding, ice skating and hot air ballooning.
Finding winter vacation deals at properties throughout the Gunnison-Crested Butte Valley is easy all season long by going to www.GunnisonCrestedButte.com/packages. Here's a sampling of early-bird offers already posted.
Early-Bird Winter Deals
With the recent announcement that Crested Butte Mountain Resort (CBMR) is lowering adult season pass prices by more than 40 percent, the newly renovated Nordic Inn in Mt. Crested Butte has created the first-ever B&B/Ski Season Pass. The pass includes unlimited skiing all winter at CBMR and 10 nights of bed and breakfast lodging at Nordic Inn that can be used for multiple visits at any time from Nov. 20, 2013 through April 6, 2014, with no blackout dates.
The pass costs $1,899 for one person or $2,498 for two people traveling together ($1,249 each). Additional nights of lodging beyond the 10 nights included with the pass can be purchased at a 40 percent savings from Nordic Inn's regular rates. If a guest has already purchased a Crested Butte Peak Pass or if cross-country skiing and other winter activities are preferred, a 10-night B&B Only Pass is available for $1,450 ($145 per night) that is good for one or two people.
The lodging is for a Signature King room and includes daily continental breakfast, free parking and secure ski/snowboard storage. The passes are on sale now through Sept. 27, 2013, and can be purchased by calling Nordic Inn at 800.542.7669.
Plan now and Save 20% off Ski-in/Ski-out Accommodations in Mt. Crested Butte through Crested Butte Lodging & Property Management.  A three-night minimum stay is required and the deal is good all ski season, from Nov. 24, 2013 – April 6, 2014. The deadline for booking this deal is Sept. 13, 2013.  To book and for all the details, call (866) 380-5737.
With Crested Butte Mountain Resort's (CBMR) Book Early, Save Big, save 25% off lodging when booking a minimum of four nights for the 2013-2014 winter season by Sept. 15, 2013.  Not ready to make a decision quite yet? Save 20% before Oct. 15, 2013.
To sweeten the deal even more, guests flying to the Gunnison-Crested Butte Regional Airport (GUC) save up to $400 per person per airline ticket when booking lodging and airfare by Oct. 15, 2013.  Travel through Houston (IAH), Dallas (DFW) or Chicago (ORD) is required on at least one leg of travel that must take place from Jan. 1 – March 30, 2014, in order to qualify. A $400 air credit will be given to travelers who fly inbound into GUC on Mondays and Tuesdays and stay at Grand Lodge, Lodge at Mountaineer Square, Plaza Hotel or condominiums managed by CBMR Properties.  For those traveling on other days of the week, CBMR is offering a $200 credit per airline ticket.  A $200 air credit will be awarded when staying in select room types at Elevation Hotel & Spa for Monday through Sunday arrivals.  For more information and reservations for both deals, call Crested Butte Vacations at (800) 600-2803.
Convenient Air Service & Ground Transportation
Gunnison-Crested Butte Regional Airport (GUC) has multiple daily direct flights from Denver (DEN) on United Airlines, daily flights from Dallas-Fort Worth (DFW) on American Airlines, and weekly Saturday flights from Houston  (IAH) and Chicago (ORD) on United Airlines.
Numerous ground transportation options make it easy upon arrival.  At the airport, rent a car or reserve a seat on one of the shuttles operated by Alpine Express or Dolly's Mountain Shuttle to Crested Butte and Mt. Crested Butte.  Once there, the free Mountain Express bus system travels between Crested Butte and Mt. Crested Butte, dropping riders off at many stops including downtown Crested Butte, the visitor centers, Crested Butte Mountain Resort, Crested Butte Nordic Center and more.
Gunnison Valley RTA runs a free bus route several times a day between Gunnison, Almont, Crested Butte and Mt. Crested Butte during ski season (ski equipment is allowed but no luggage), so it's easy to explore the unique offerings of all four towns and find many lodging options.
For a full air schedule and links to ground transportation, visit www.flygcb.com.
Vacation Packages & Visitor Information
To save on flights, hotel rooms, vacation packages, car rentals and more, call the Gunnison-Crested Butte Tourism Association reservation hotline at (888) 559-0841 or go to http://book.GunnisonCrestedButte.com. For destination information, call (800) 814-8893 or visit www.GunnisonCrestedButte.com.
Logo courtesy Gunnison-Crested Butte Tourism Association