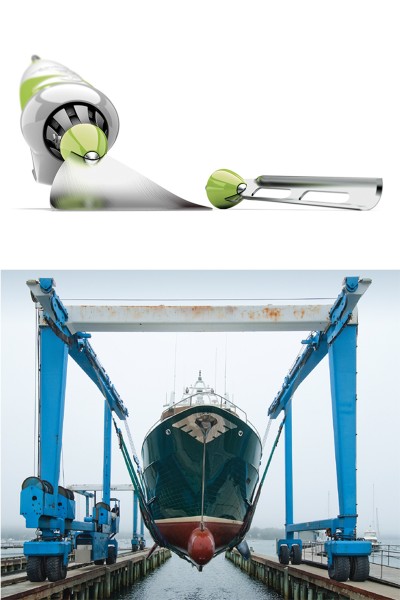 Marina or boatyard operators know that when it comes to routine maintenance and cleaning tasks, time is money. While power washing may be an efficient way to remove fouling, the resulting contaminated wastewater requires expensive handling for disposal. A more profitable solution is the Waveblade handheld portable power tool. It offers a fast, effective and environmentally sound alternative for cleaning away marine growth.
The tool's patented oscillating head creates a multi-directional vibration that effortlessly cuts through the most stubborn growth, without the user needing to apply pressure. An ergonomic grip, sensitive touch switch and aluminum knuckle guard make operation easy on the hands.
Any type of hull material is safely cleaned without damage to the underlying surface, including bottom paint. Barnacles, tube worms, calcification rings, mussels, oysters, slime and rust disappear in a fraction of the time needed for either hand scraping or power washing.
This lightweight and versatile tool runs off 12V DC, drawing 3.2 amps, and can also connect to a 110V converter. With an attached 45′ cord for plenty of reach, it works equally well on the hard or up to 15′ underwater. Not just for large surfaces, the Waveblade can be fitted with accessory blades ideal for cleaning shafts, anodes and running gear as well as hard-to-reach areas around trim tabs or through-hulls. Blades come in black coated steel for dry use or stainless steel for submerged use.
The starter kit retails for $399, and includes the Waveblade tool, 3″ black steel blade, black steel flat chisel blade, additional foam filters, safety glasses, safety gloves and carry bag. Accessory blades begin at $19.99.
Image courtesy Waveblade, Inc.