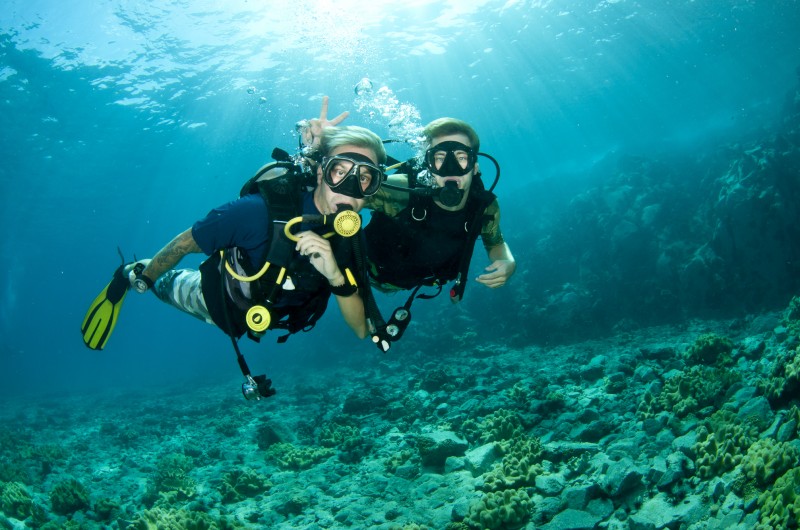 Eighteen months ago Josh Davies was assisting in cutting down a tree on his family farm when it unexpectedly landed on him, snapping his spinal cord in two places.
The now-21-year-old, who lives in Pontlliw in South Wales, was paralyzed from the waist down and now uses a wheelchair for mobility, the South Wales Evening Post reported.
"I used to play rugby and all sorts of sports and have always been an outdoor sort of person," he said in an article posted on the British Sub-Aqua Club's website. "I was absolutely devastated when I found out that that was it, I was paralyzed and would never walk again."
One of the biggest frustrations Davies was left to deal with was not only losing the use of his legs, but coming to the realization that he would never fulfill one of his major goals in life—learning to scuba dive. He refused to give in to self-pity, and took on the challenge of attempting the activity.
"One day I woke up and thought I had to make the best of a bad job and get on with my life," he said. "I couldn't let it get me down. And while I'm still learning to come to terms with things and also learning how to simply survive in a wheelchair, I'm getting there and diving has certainly helped."
Davies has made great strides and is well on his way to being an avid scuba diver. He is now an active member of the Llwchwr branch of the British Sub-Aqua Club (BSAC). According to the report, club members have been so impressed with his determination that they have been fundraising to take him to Lanzarote for some warm weather training later in the year.
"It's difficult because, as part of the Ocean Diver qualification, I had to show that I could rescue a stricken diver and bring him to the surface and then get him to safety," he said. "I managed it but it wasn't easy and I really had to work hard at it. And there is no let up just because I'm paralyzed. They can't just pass me—I have to show I can do what's needed."
Davies said scuba diving has given him something to look forward to despite his horrible accident.
Other than the difficulty of getting a wet suit on and off, Davies said, "I absolutely love it in the water and diving is brilliant when you can see fish and marine life. I've now passed my Ocean Diver certificate and my next task is to pass the Sports Diver qualification."
Image copyright iStock/Jman78