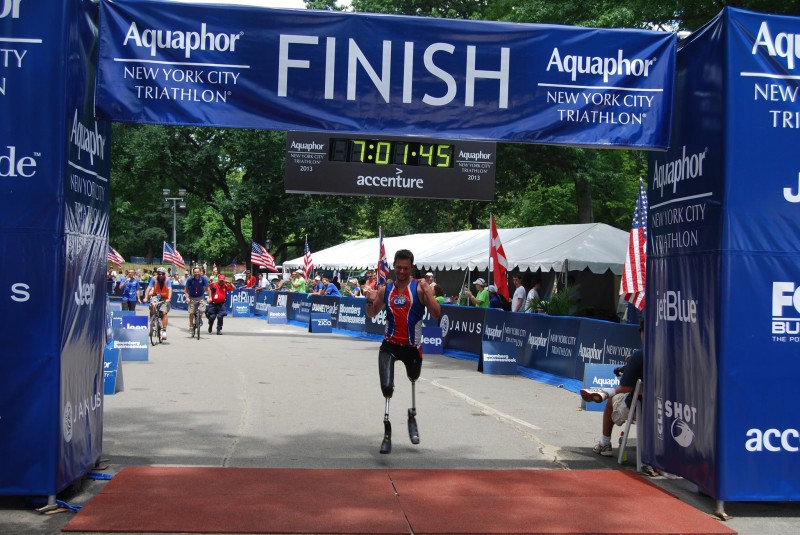 Last weekend in Northern California, 85 cyclists came together in a 200-mile back-to-back century bicycle event raising money for the Challenged Athletes Foundation. This was the third year that the event raised money and spread a belief in independence through mobility with the help of their sponsor, Dodge.
The competing cyclists were required to raise $3,500 each in order to participate in the organization's most popular event. "I think that people like the cycling events because they get to ride alongside those who their money benefiting," said the foundation's senior director, Nancy Reynolds.
One of the success stories of the foundation, who participated on his hand cycle, is Corporal Daniel Riley. Dan is a 28-year-old veteran who fought in both the Iraq and Afghan wars. When he lost both his legs in service, he thought his days of competing were over. But, when he returned to the U.S., he discovered "operation rebound," a sector of the Challenged Athletes Foundation that reaches out to former veterans through sports. Through the program, those who have always lived active lifestyles find new ways to continue to participate.
For David, his involvement began by attending weekly surf clinics offered in Del Mar. Soon he rediscovered snow skiing, his favorite sport before his accident. With the help of a mono-ski, a torpedo-like casing set on one ski that is propelled by the use of poles, Dan is still a formidable force on a mountain.
His mono-ski and hand-cycle are just some of the types of equipment that the Challenged Athletes Foundation provides to their disabled competitors. Those riding in last weekend's evebt were able to see Dan, and some of the other athletes who benefit from the foundation's grants, overcome the devastation of losing limbs, and finding new ways to compete. Nancy explained it best by simply saying, "They are inspired to do something they didn't think they could do, we just give them the means to do it."
Hear more about David's story in the video below.
Image and video courtesy Challenged Athletes Foundation