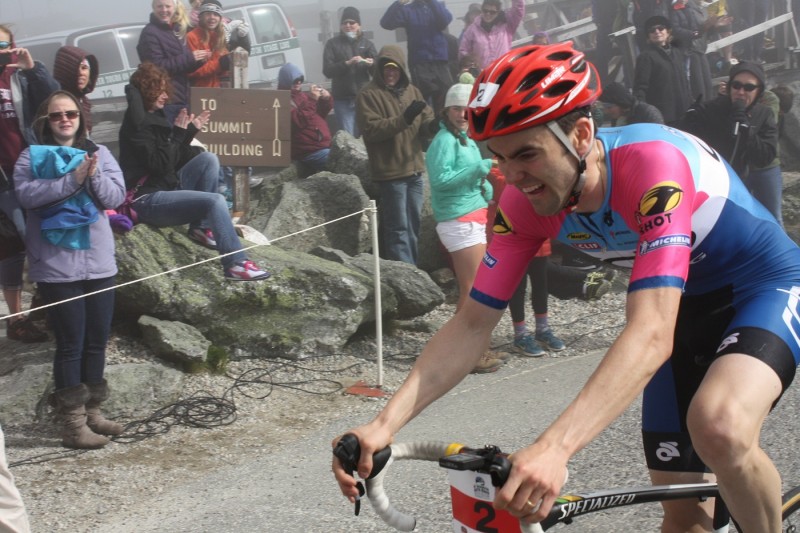 They were both able to blast off to victory against winds whipping more than 30 miles per hour across the highest peak in the northeast.
An M.I.T. graduate student in astrophysics and a research chemist from Rhode Island pedaled up the 6,288-foot rock pile to win the Mt. Washington Auto Road Bicycle Hillclimb Saturday in the White Mountains of New Hampshire.
Cameron Cogburn, 27, of Cambridge, Massachusetts, and Silke Wunderwald, 42, of Hopkinton, Rhode Island, took the top prizes, with Cogburn defending his title in a field of more than 600 entrants. There were 504 finishers.
At the start, Cogburn took off with a group of six riders who quickly moved well ahead of the mass pack. It took about two miles, but soon the former professional rider who went back to amateur status so he could concentrate more on his studies was on his own and riding to the finish line in 50 minutes, 48 seconds. Cogburn was on record pace for a spell, and that was on his mind. His time was two minutes ahead of what he rode last year and within reach of the course record of 49:24 set by Tour de France competitor Tom Danielson in 2002.
"I really wanted to go sub-50," he said. "If the wind was 10 miles an hour less. I'm happy with my ride though."
Cogburn was wrapped in a blanket to stay warm at the foggy summit and said the wind was a little worse this year than last year. Mount Washington is known for its wicked weather, the highest wind ever recorded by man tallied there at 231 mph in 1934.
"I know I could get the record," said Cogburn. "It's a matter of losing a couple of pounds. But last week I went to Leadville [a 100-mile bike race at high altitude in Colorado, where Cogburn finished fourth] and I suffered a bit at 12,000 feet! I'm happy with today."
Cogburn's closest pursuer was 23-year-old Erik Levinsohn, a first-year Yale medical student with extensive bike-racing success in New England.
Cogburn was asked if he was concerned about the other cyclists in that breakaway pack, including Levinsohn.
"No," he answered. "You can't think about the other guys.
Levinsohn was riding the rock pile for the first time.
"My plan was to stay with Cameron as long as possible," said Levinsohn. "But that was for only two-and-a-half miles! The finish was a long way coming after that." He finished in 53 minutes, 29 seconds.
Third place went to Jeremiah Bishop, 37, of Harrisonburg, Virginia, in 54 minutes, 24 seconds.
One of the country's most accomplished mountain bike racers, Bishop was testing himself on the Auto Road's 12 percent grade for the first time.
"This is a spectacular place to ride," he said. "For a hillclimb, I don't know anything quite like it."
Wunderwald rode through the finish in one hour 9 minutes 56 seconds, an improvement on her Mount Washington debut last year, when she finished third in one hour, 10 minutes, 47 seconds.
"The lesson I learned last year was don't go out too hard," she said.
She began competitive cycling in 2006 and in the last two years has focused on hillclimbs.
The women's runner-up was 28-year-old Stefanie Sydlik of Cambridge, Massachusetts with 1:12:59. Third was Line Lauritsen, 31, of McHenry, Maryland at 1:14:33.