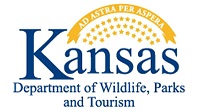 Do the hot and humid days of summer have you wishing for a winter wonderland? Well look no farther than Lovewell State Park because your wish is about to be granted. Lovewell State Park, located in Jewell County in northcentral Kansas, will host the 11th Annual Campground Christmas event Saturday, Aug. 17. Campers will compete in a two-day decorating contest by adorning their campsites and cabins with yuletide themes.
The decorations will then be available for public viewing, followed by a formal judging at 8 p.m. Saturday evening. Prizes will be awarded at 11 a.m. the following morning.
Campers interested in entering the contest must register at the Lovewell State Park Office no later than 5 p.m., Saturday, Aug. 17. Those interested in viewing the campsites must have a vehicle permit to enter the park. Daily permits can be purchased for $5.00, annual permits for $25.00. For more information, contact Lovewell State Park manager Thane Loring at (785) 753-4971.
For a list of park events near you, visit ksoutdoors.com and click "State Parks/Event Calendar."
Logo courtesy Kansas Department of Wildlife, Parks and Tourism (KDWPT)