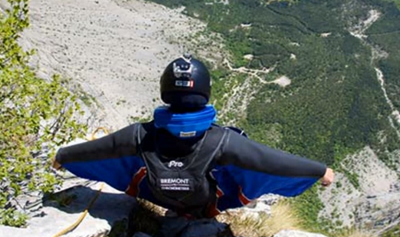 The stuntman who doubled as James Bond during the London 2012 Olympic Opening Ceremony was killed in a wingsuit-diving accident Wednesday morning. Mark Sutton crashed into a mountain ridge near Martigny in the Swiss Alps, which is close to the French border.
NBC reported that the 42-year-old British stuntman was in a group of 20 people who were diving during their stay in Chamonix, France.
"He was part of a group of about 20 other comrades in Chamonix, which are regarded to be among the best in the world," police said in a statement.
Epic TV organized the Swiss event, where the top wingsuit divers were being filmed over a three-day period, and Editor-in-Chief Trey Cook said the wing-diving community was devastated by the accident.
"Mark was a very experienced pilot," Cook told NBC. "Conditions were good yesterday and people had been flying extremely conservatively in the practice flights, but unfortunately this is a sport where there is very little margin for error."
The wingsuits worn during this extreme sport were created to add surface area to the body that enables an increase in lift, with fabric between all limbs.
Police said Sutton had jumped from more than 10,000 feet.
Sutton was close friends with Gary Connery, who doubled as Queen Elizabeth II while wing-diving at last year's Olympic Ceremony. Connery told The Sun he had lost a friend who was "smart, articulate, and funny."
"In any sport where you share a common bond you can make friends in a heartbeat that last a lifetime," he said. "My relationship with Mark was like that."
Connery tweeted, "All you jumpers/flyers out there, stay safe, make wise choices and know your limits and your locations. Live to tell your stories. One love."
Image is a screenshot from video by World Report Online on YouTube