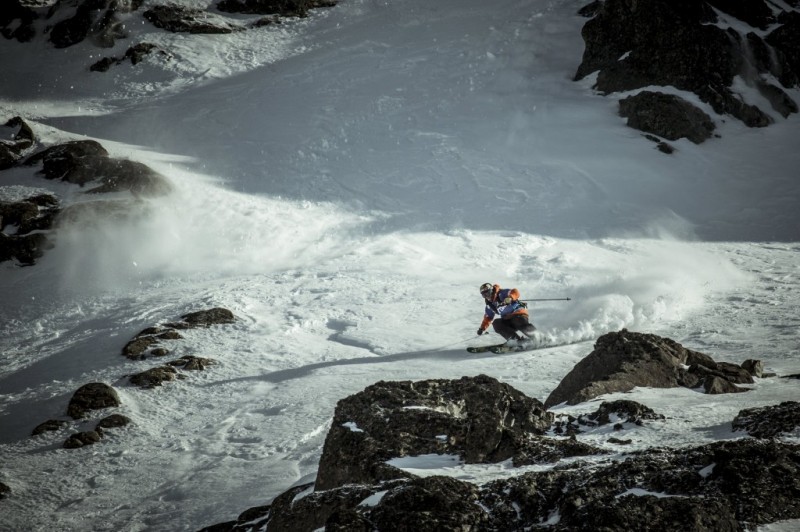 Thirty-year-old Nicolás Salencon lives and breathes freeride skiing and has posted some impressive results in big-mountain competitions like the Freeride World Tour and its qualifiers. The Red Bull Beyond the Line competition, however, is a little different to your normal big-mountain competition. It incorporates a big-mountain competition day—technical steep lines and cliffs—with a backcountry freestyle day—man made jumps into fresh powder where trickery is at the forefront. This recently popularized format is considered to be a true measure of a freeskier's overall talent, and with the venue for the event near his home town of Baguales, the Fischer team rider was eager to compete.
A combination of flat light and a hard snow pack meant the first day of competition had to be cancelled, the following day however, it was all on. Competitors flocked to Villegas Hill in a mountain reserve near Baguales to test their mettle on five different backcountry jumps. Due to the hard snow pack, Nicolás made a strategic decision to play it safe and complete a run. The day after, Nicolás charged hard and fast through the steep and technical face, littered with rocks. His technical, fast paced yet strategic skiing awarded him with the highest combined score, first place and an invitation to the legendary Red Bull Linecatcher in France.
"Nicolás was without a doubt the most strategic skier of them all," said judge Nicolás Lopez Echavarri. "He was very smooth and also the fastest in both disciplines. He did excellent tricks in freestyle and very good lines in freeride." A well deserved victory for Niclás Salencon, who is overjoyed with the result and is already looking forward to competing in the 2014 Red Bull Linecatcher in France.
Image courtesy Red Bull Content Pool